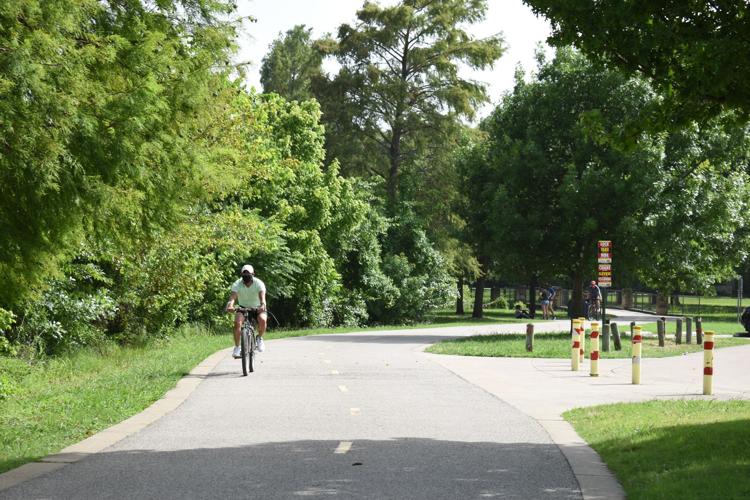 Green space and parkland have been important topics for Mesquite residents, and during the July 6 City Council pre-meeting Director of Planning and Development Services Jeff Armstrong briefed the council on a possible parkland dedication ordinance.
The ordinance would be applicable to all residential developments within the city limits and in the ETJ of Mesquite where there is a development agreement as well as hotel/motel developments.
A parkland dedication is dedicating land from a residential development by setting aside land for parks.
Armstrong said the Comprehensive Plan adopted last year recommends 6.25 acres per 1,000 residents, and there are 2.8 residents per dwelling in Mesquite.
The same calculation was proposed for hotels but reducing the occupancy to two.
"Not every development is going to have land that we want or that is appropriate, so we would propose having a fee in lieu of dedication as an option," Armstrong said. "A proposal on how to deal with that: first you would calculate what the land requirement would be if they were to dedicate the land and multiply that by the per-acre value land being developed. Some cities use a citywide value. We believe it's more appropriate that if the land were supposed to come out of that development then it should be based on the value of that land rather than some citywide value."
Armstrong sought council guidance on whether the fee be paid at the time of permit or all at platting, with the fees to be spent within 10 years of collection.
"It's not really right if there's a development, say out on I-20, and we collect a fee in lieu and then we go spend it up in Casa View. Those people who paid for that are not benefiting from those parks very well, so it's right to have these service areas," he said.
Armstrong suggested using the existing roadway impact fee service area map.
"I'm suggesting using that for lack of any other really reasonable map that splits the city up into roughly equal sizes, and essential funds collected in one of those service areas would have to be spent on park improvements in that same service area so the people that spent the money are most likely to benefit from it," he said.
It was also proposed that Trinity Pointe be separated into its own service area, creating a fourth.
Other questions posed included: Should the cost be added to permit and impact fees? If a subdivision is providing private parks and amenities, should the city allow that to count?
Councilman Kenny Green suggested a tiered approach, possibly collecting half of the money after a 25 percent buildout and the remainder after about half buildout.
"That way we don't have to wait until the very end of development and they're not having put all the money upfront," said Green.
Mayor Pro Tem Robert Miklos suggested breaking up the fees and having the builder and developers split the cost.
Armstrong also suggested making the decision administratively with an appeals process before council on what is dedicated parkland and what can be fees in lieu.
Miklos said he thinks it should be administrative recommendation, but council should decide if they accept fees in lieu of parkland dedication.
Green said he wanted to see the Parks Board involved in the decision process.
According to the presentation, the minimum size for dedication is typically between one and five acres. Staff suggested one acre and less than one automatically pays a fee in lieu with 50 percent being in the floodplain area as acceptable.
A reimbursement clause was also proposed to allow the city to develop parks in advance of development and use fees to reimburse.
"I think upon completion of a Parks Master Plan we almost certainly will come back to revisit all of this because it may have different numbers that are appropriate, there may be all sort of things that plug into that formula that come out of that plan," Armstrong said. "This is the best we can do without a Parks Master Plan."
Staff will bring an ordinance back before council for consideration.