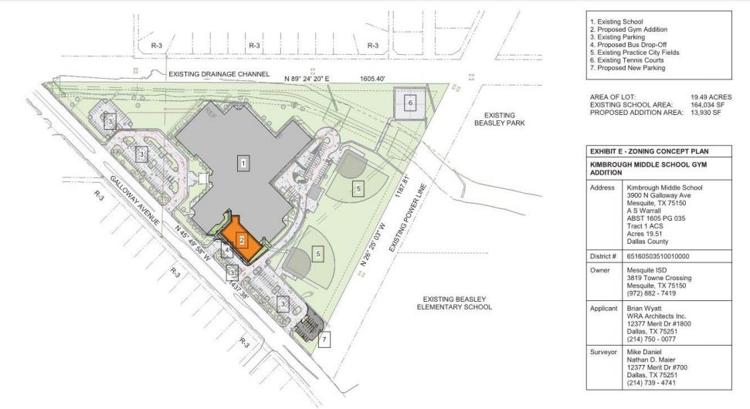 During the Jan. 6 Mesquite City Council meeting, a public hearing was held to consider a request submitted by Brian Wyatt of WRA Architects Inc. for a zoning change to allow the construction of a second gym at Kimbrough Middle School on N. Galloway Avenue.
Two responses in favor and one in opposition to the application have been received from property owners within the statutory notification area. The Planning and Zoning Commission recommended approval of the application.
Jeff Armstrong, director of Planning and Development Services, reported that the addition will be about 12,750 square feet. The parking requirement is 176 spaces with 247 existing. With the proposed gym it would be reduced to 239.
The changes in traffic include increased queuing capacity. The required is 2,800 feet, the proposed is 3,515 feet. They will also be adding a bus staging area in the northwest parking lot, and adding "Do Not Block Intersection" signage along N. Galloway Avenue.
Much like the other Mesquite ISD middle school gym additions, this will double as a storm shelter for the campus.
Wyatt said this project was approved in the 2018 bond election and will allow students at Kimbrough to have physical education.
"Recently Mesquite ISD added sixth grade to their middle schools, so this is the last middle school campus that we'll be adding a gym storm shelter to," he said.
Wyatt said the gym is similar to the other middle school gyms and modeled at the Lanny Frasier Middle School gym.
This additional gym will serve the entire campus and can withstand 250 mph winds, Wyatt said.
Council unanimously approved this item.