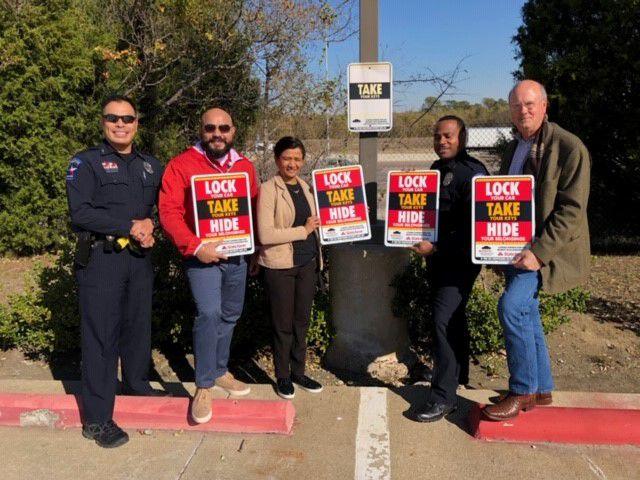 The Mesquite Crime Prevention Unit recently replaced Lock, Take, Hide signs throughout the city as part of their efforts to keep Mesquite safe.
According to city staff, the crime prevention unit collaborated with the Insurance Council of Texas and State Farm to replace older signs from businesses throughout the city.
The crime prevention unit received 100 free signs to give away to Mesquite businesses for free. The first business they collaborated with this month was the Holiday Inn in Mesquite, according a press release.
"There is a high volume of traffic in our business parking lots. We would like our visitors and residents that shop, eat and stay at our businesses to have a pleasant experience and be mindful to take, lock and hide," Officer Steven Contreras said in a press release.
The press release also noted that according to national figures, more than 1.85 million auto thefts and vehicle break-ins occur annually. These crimes have resulted in the theft of more than $1.2 billion in personal property.
In Mesquite 20 percent of all crimes involve theft of or from a vehicle, with 40 percent of those vehicles being left unlocked by the driver. 
"It takes only 10 seconds to take your keys, lock your vehicle and hide your valuables. Don't become a victim of opportunity," urged city staff.