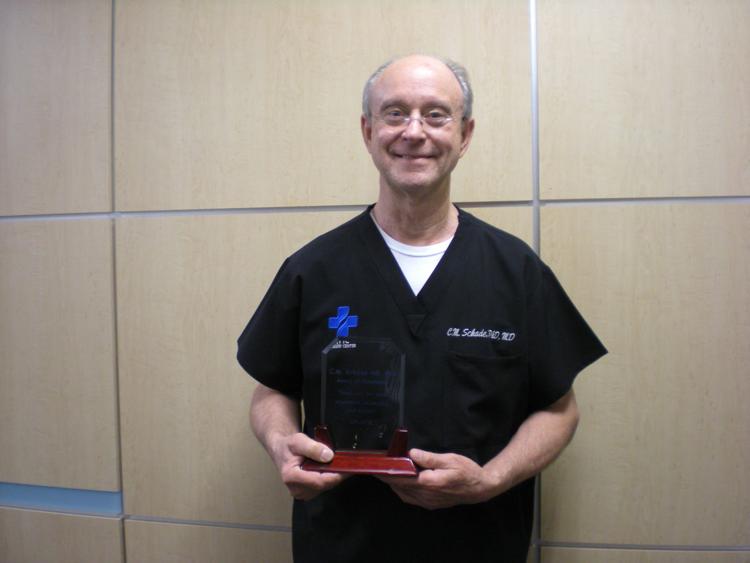 Dr. C.M. Schade of Advanced Pain Solutions was recently presented with an award for Excellent Patient Care by the North Texas Team Care Surgery Center and Advance Pain Solutions.
Part of this recognition has to do with his time spent in Austin working with legislators, the Texas State Medical Board and the Texas State Pharmacy Board regarding new laws and regulations on medication in Texas.
Advanced Pain Solutions is a pain management clinic, but Schade said pain management is more than just drugs; their clinic uses a multimodal treatment.
"We specialize in injections. If you have a problem with a pinched nerve we can inject an anesthetic, a steroid, around that nerve to relieve the inflammation and the pain, and they don't have to have surgery," he said.
In incidents like those who have back surgery and end up with "failed back surgery syndrome" where the scar tissue around the nerve causes pain after the surgery resulting in a lifetime of pain, he said they have spinal column simulator implants.
"My partner and I do spinal column simulator implants. We can implant a computer, wire it up to the spinal cord and it gets rid of that pain," he said.
Schade noted the opioid epidemic going on in the country where people die from prescription drugs.
"Offering people viable treatment alternatives to taking pain medicine is huge so they don't have to rely on pain medicines," he said.
"It's been shown over and over again that many addicts get their pain medicines from their physicians, and that's not good because we're supposed to be helping these patients," he added. "In this clinic, we do extensive screening for addiction because addiction is a disease; it's not something that's caused by a medicine. Opioids can feed an addiction, but it doesn't cause the addiction."
Schade is also the vice president of the Texas Pain Society of Greater North Texas chapter as well as on the board of the Texas Pain Society. He serves as a voice and a resource when establishing new laws and regulations concerning medications in Texas and making alternative treatments available.
"I feel honored to be recognized. The court of public opinion is tremendously important. Physician means to teach, and it's so important that we let patients know that there are alternatives," he said. "By being recognized it helps us, the physicians, get the word out that there is hope, there is help available and there are treatment alternatives."