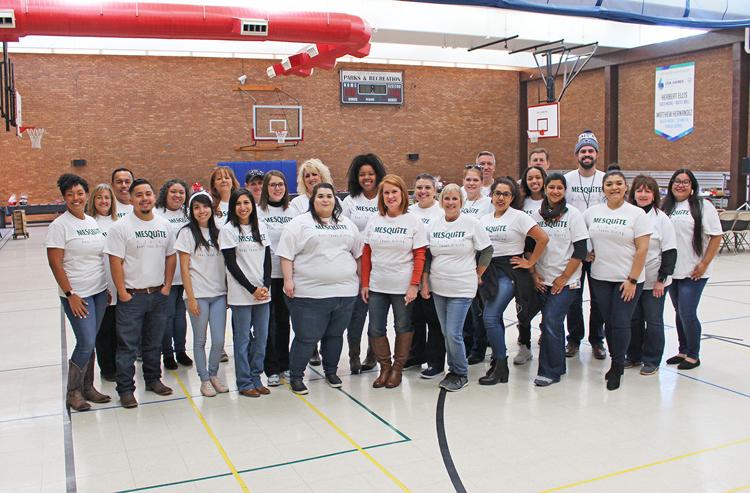 The employees for the City of Mesquite continue to give back to the community they serve as they recently raised more than $35,000 for local charities as a part of their 2019 Real. Texas. Giving. Campaign. In the past three years city employees have donated more than $104,000 through the campaign to programs and services that support the Mesquite community.
"I am so proud of our employees. They continue to demonstrate their compassion for our community. They provide extraordinary customer service to all citizens and give out of their own pockets to assist those in need within our community. This level of genuine care and giving shows that we are one organization committed to this city," said City Manager Cliff Keheley.
The 2019 Real. Texas. Giving. Campaign will assist 18 different charities and causes that serve Mesquite. These include Sharing Life Community Outreach, the American Heart Association as well as the Boy Scouts of America and the Girl Scouts of America. The city hosted fundraisers and contests for employee participation from Oct. 28 - Nov. 1, and employees also committed to deductions from their payroll to be donated towards the charities. The public can also make their own tax-deductible donations to community programs at cityofmesquite.com/Donations.
The campaign was supported by many sponsors which included: Bear Cave Coffee, BJ's Restaurant, Bubba's 33, Café Del Rio, Carter Automotive Repair, Celebration Station, Chick-Fil-A, Continental Hairlines,  Dallas Arboretum, Dallas Diamonds, Dicks Sporting Goods, E&E Bundt Cakes, El Rio Grande, Elliott's Hardware, Farr Family & Cosmetic Dentistry, George's Bakery, Golden Chick, Greg & Raejean Noschese, Hands on Therapy/The Spa, Joseph's Auto Toy Store, Joy Simmons, Jumptyme Indoor Trampoline Park, Krispy Kreme, Leslie's Creations, Lone Star Park, Lux Nail Bar, Mesquite Eye Associates, Mesquite Convention and Visitors Bureau, Mesquite Fire Department, Mesquite Fire Association, Mesquite Golf Course, Mesquite ISD - Athletic Department, Mesquite Police Association, Painting With a Twist, Planet Fitness, Quality Furniture, Raza Jewelers, Red Wing, Royal Car Wash, RPM Speedway, Shenaniganz, Sports Clips, Staples, Stone River Golf Club, Tarpley CPA, Texas Rangers, Texas Roadhouse, The Brown Eyed Girl Boutique & More and Ron's Organic Dynamics, The Gun Zone, The Wild Orchid,  Town East Mall,  Tractor Supply, Uni-First, Whataburger, White Properties, Windsor Florist, Work Wear, Xcape Adventures and Youfit Health Club.