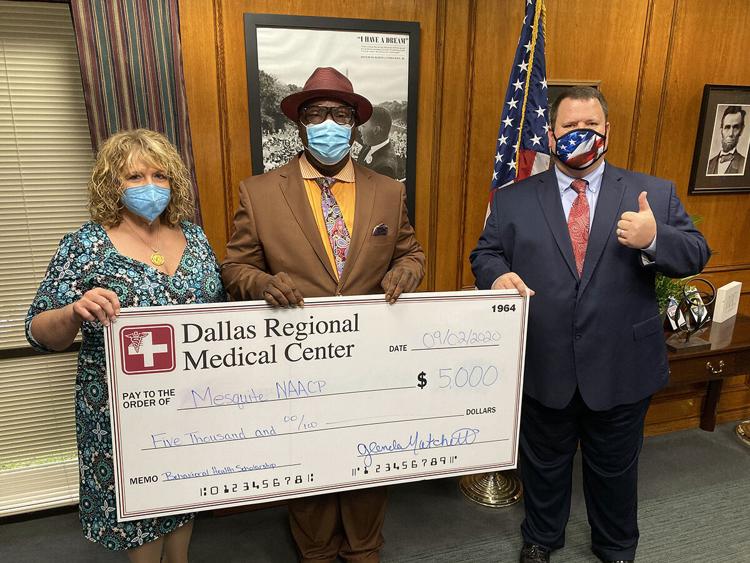 Dallas Regional Medical Center recently donated $5,000 to support the new Mesquite NAACP Behavioral Health Scholarship Initiative to offer funding to minority students in the Mesquite Independent School District who want to pursue a degree in a mental health profession. The donation was presented by Dallas Regional Medical Center Chief Executive Officer Glenda Matchett to Mesquite NAACP President Henry Brown and along with city of Mesquite Mayor Bruce Archer during a ceremony at Mesquite Municipal Center.
Matchett explained, "When I met with the mayor and he told me about this, I told him that this is something we want to be a part of. The more mental health clinicians we can put in our community in Mesquite, it is better for our patients."
Archer said, "We know all through America we are lacking so much when it comes to mental health resources. We must become the safest city in America, the cleanest city in America, the most employed city in America and to become the kindest city in America, and with more support for mental health needs that will help us achieve those goals for our city."
"What we are trying to do is put together scholarships for students in MISD that want to pursue any degree in mental health. I am so grateful, I'm so happy, I could cry," said Brown.
The city and Mesquite NAACP launched the educational scholarship program to assist minority students who are enrolled in college programs in the area of behavioral health, including social work, psychology, nursing, counseling, marriage and family therapy, substance abuse or mental health training programs. The Mesquite NAACP plans to begin awarding scholarships to full-time college undergraduate students next year.