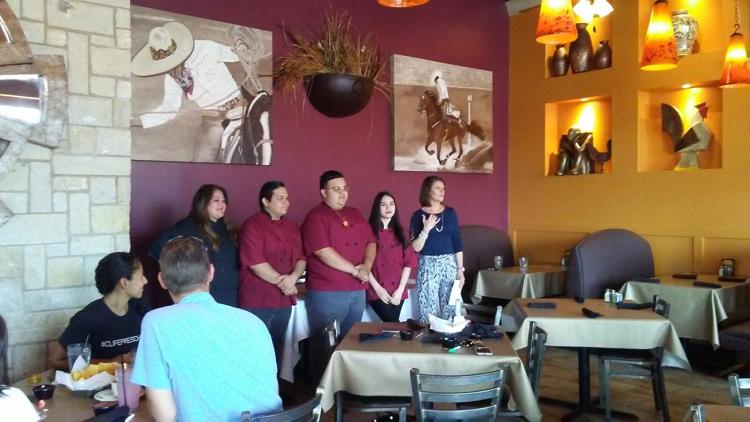 Cristina's Fine Mexican Restaurant teamed up with Medical City Children's Hospital last year to put on the Kids Fit Menu Challenge, a cooking challenge featuring local high school students with live demonstrations.
The competition was held on Oct. 6, and Mesquite High School culinary students – under the instruction of Sandra Sepulveda – won with their Party Pizza Poppers and Apple Pie Sauce. Their creation was debuted for the first time Monday afternoon at Cristina's in Forney. 
"It's surprising, because who would've known that we would've gotten an opportunity to have our dish at Cristina's," said Stephanie Perez.
"For me it's almost like a dream come true because I know I've made a dish that's being put on a menu," added Max Chavez.
The team – made up of seniors Chavez, Perez and Carlos Ramirez – beat out several schools in North Texas to get to this point.
"This is our first year being a part of My Fit Foods. In the beginning, when we started the whole process of judging and being able to taste and having them present, it was a lot of fun," said Cristina's owner Cristina Vargas. "They were very original in what they came up with and with providing kids with a full cup of vegetables in a way that's not intimidating and something pleasing to a child's eye. They knew the kid market, and that's what they provided for, something that's going to be a good seller for the kids, and we're excited to be able to feature something that's a healthier option and being a part of the community and helping these students grow their knowledge and get some restaurant experience."
The trio was treated to a debut event at the restaurant to allow family and Mesquite ISD staff members to taste their dish, and they each signed a copy of Cristina's Kids Fit menu that will be available at all of their locations across the DFW area.
This event also helped these three seniors wrap up their Mesquite High experience as they look toward the next step in their lives.
"I've had all three of them since they were freshmen, so it's bittersweet to see them go," Sepulveda said. "Max is one of the people I lean on in class as a leader so it's sad to see that go, but he's mentoring other kids to take his place next year."
She added that the younger students look at these three and see what they've accomplished and are excited to have the same opportunities.
Perez said she plans to enlist in the Army after graduation, while Chavez and Ramirez will be attending Auguste Escoffier School of Culinary Arts in Austin.