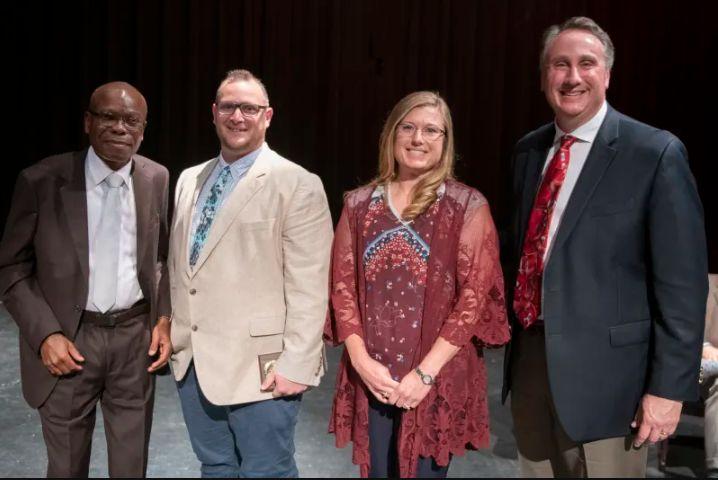 On May 20, Mesquite ISD announced its campus and district Teachers of the Year, recognizing them at a special ceremony at Mesquite High School.
Each campus selected its own Teacher of the Year, and a panel of judges evaluated essays and videos submitted by the nominees to select two winners for the district. Lindsey Hunt, a PE teacher from Gray Elementary, and Brandon Beaty, a US history teacher from North Mesquite High School, will go on to represent Mesquite ISD at the regional level contest.
Through the generosity of Emmitt Murphy of Mazda of Mesquite, these two exceptional teachers will enjoy the use of two brand new Mazda vehicles for the summer.
The Teacher of the Year program is a national program designed to honor outstanding educators across the country.
This year's campus Teaches of the Year are:
Elementary: Achziger - Rita Cazares, Austin - Krista Ledbetter, Beasley - Kathy Reynolds, Black - Kara Dungo, Cannaday – Marjorie Hansen, Florence – Brenda Gomez, Floyd – Cecillia Contreras, Galloway – Patricia McCarty, Gentry – Amanda Thomas, Gray – Lindsey Hunt; Hanby – Mabel Morales, Henrie – Nicole Elliott, Hodges – Courtney Alexander, Kimball – Janet MacDonell, Lawrence – Stephanie Bellah, Mackey – Irais Sandoval, McKenzie – Valeria Hernandez, McWhorter – Lindsey Loss, Moss – Shawn Wright, Motley – Haley Campanella, Pirrung – Molli Bauman, Porter – Rudy Alvarez, Price – Andrea Phares, Range - Cynthia Chairez, Rugel - DeAnne Calverley, Rutherford – Nelly Amaro, Seabourn – Claudia Mata, Shands – Justin Bolton, Shaw – Lydia Johnson, Smith – Rachel Bovre, Thompson – Kimberly Jones, Tisinger – Brooke Thomas, and Tosch – Kristen Harmon.
Middle School: Agnew – Karen Tucker, Berry – Trudy Paul, Frasier – Jorge Escobar, Kimbrough - Christie Miles, McDonald - Brittany Anderson, New - Becky Nabors, Terry – Brittany Jones, Vanston – Rhonda Arnwine, and Wilkinson – Amanda Cannon.
High School: John Horn – Jennifer Hiser, Mesquite - Jerrett McCollom, North Mesquite - Brandon Beaty, Poteet – Mayra Pratz, West Mesquite - Lacy Brown, Mesquite Academy – Carol Kruckenberg, and Learning Center – Tiffany Griffith.