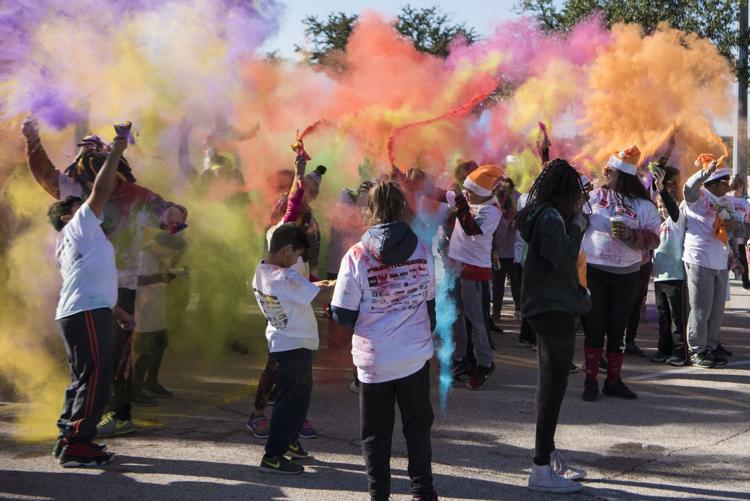 It's that time of year again. Lace up your sneakers and hit the pavement for Mesquite ISD Education Foundation's annual Amazing Santacolor 5K on Nov. 9, which will kick off the holiday season in Mesquite.
This run/walk is held at Town East Mall, 2063 Town East Mall, and proceeds benefit Mesquite ISD teachers and students.
"The funds are used to make possible a variety of different programs, all of which falls outside of the normal state budget," said Randy Lewallyn, Mesquite ISD Education Foundation executive director. "We're talking about technology that normally wouldn't be in the classroom, leadership programs for high school students, social and emotional learning, and we're continuing to fund things that are promoting a 21st century learning environment with regards to seating and furniture."
Last year's event raised over $50,000 to help fund programs that promote creativity and coding, especially at the elementary level, among other things.
Lewallyn added that this current school year, the fundraising from last year funded over $250,000 in innovated grants in the school district.
"Since 2004, we've funded more than $2.4 million in grants in MISD," he said.
This annual run will have color stations, snow machines, Christmas carol karaoke and more. New this year is chip timing for those wanting an added competitiveness.
"It's great for families and kids who just want to come out on a Saturday morning to walk or jog without the timing dynamic, but this year we wanted to open it up to people that are interested in that," Lewallyn said.
Start and finish will be on the west side of Town East Mall, and packet pickup will be inside Dick's Sporting Goods from 10 a.m.–6 p.m. Nov. 8 and on race day at the event site from 7-8 a.m.
Santa is expected to arrive by helicopter that Saturday at about 8:15 a.m.
For more information on this event and to sign up, visit mesquitefoundation.org.