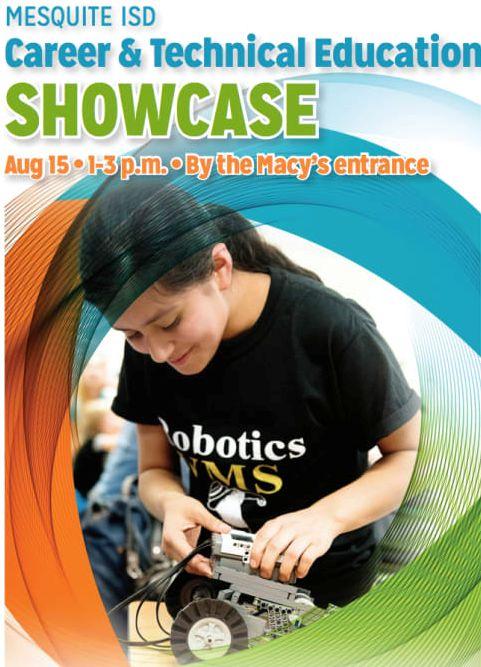 Mesquite ISD is inviting the public to find out why they're proud of their Career & Technical Education (CTE) program and the things they have in store for their students during a showcase at Town East Mall (by the Macy's entrance), 1-3 p.m., Aug. 15.
Career & Technical Education (CTE) classes combine high-quality, rigorous instruction with real-life experiences to prepare students for the future. CTE has within 14 career clusters that equip students to achieve at high levels whether they are starting college, attending a technical school, or entering the workforce after high school graduation.
Students are also offered opportunities to earn paid and unpaid work experience, state and nationally recognized professional certifications, and college credits through dual-credit and tech prep programs. CTE courses help prepare students for a variety of real-world careers.
Of the more than 40,000 MISD students 21,479 occupied seats in CTE classes this past year. More than 1,100 certifications were obtained during the 2018-2019 school year and 1,441 dual credit hours were completed. Students with greater exposure to CTE are more likely to graduate from high school, enroll in a two-year college, be employed, and earn higher wages. 
CTE will continue to provide students with hands-on opportunities, time to interact with professionals in their field of interest, and ideally find success using their skills, interests and passion. We will also continue to research and develop programs that are relevant, correspond with job market demands and evoke student interest.
To learn more, visit mesquiteisd.org/academics/cte.