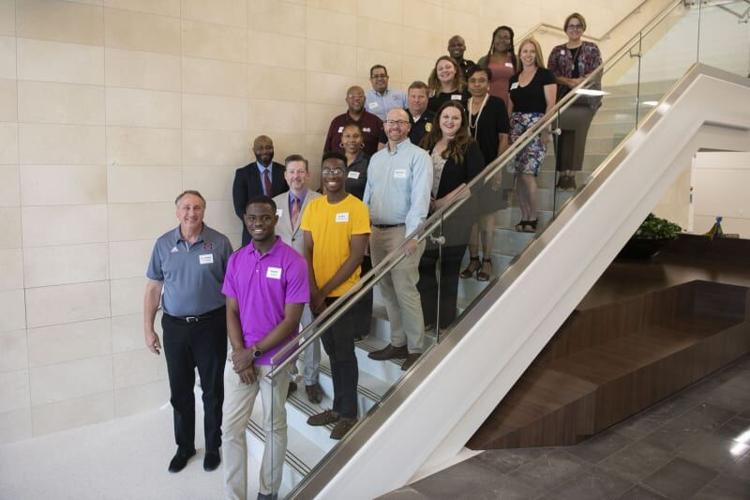 Earlier this summer, a group of Mesquite ISD staff members formed the Leadership and Empowerment Team (LET) in an attempt to remove any cultural, gender or race related obstacles to ensure that MISD students become the leaders they want to be.
This came following the death of George Floyd in Minneapolis, sparking nationwide protests against racism and police brutality. LET consists of staff, students, alumni, representatives from the Mesquite community and the school board. LET is led by Daniel Norwood, the district's social studies coordinator and MISD graduate.
During the Sept. 14 Board of Trustees meeting, Norwood went over the purpose and desired outcomes of LET. He noted different areas that the district focused on, which is student leadership, district policy, human resources, communications, professional learning, leadership pipeline and development.
"On the student leadership part we started by establishing a safe space for our students. We really wanted them to share their perspectives; tell us more about their experience as students at MISD," Norwood said. "We spent a lot of time talking about history, curriculum and ELA, and just how that effects their affirmations in class and their understanding about themselves and the world that they're in and around them."
He reported that the School of Leadership, slated for 2021-22, is a program of study designed to immerse students in the research of past leaders and empower them to engage in social leadership opportunities.
"The School of Social Leadership, that is one of the most exciting things I think we're going to venture down. To actually be more deliberate about the development of leadership is something that I've never personally seen in schools," said Superintendent David Vroonland. "We've always had the benefit of receiving leaders from parents and maybe nurturing them a little bit, giving them some opportunities to really explore their leadership. In this program, we're going to be deliberately building leaders by helping them better understand the concepts of leadership through history in different forms."
Vroonland also touched on safe space, which he noted was not so much about students feeling safe to communicate to adults but from student feedback, was really about them feeling safe to communicate in front of their peers.
"Drawing from that was a conversation around what happens on social media. How are we going to be more effective in actually creating safe spaces?" he said. "It's one thing to have a space by which the teacher permits conversation to occur that's contextually appropriate to what's being taught; it's an entirely different issue when you're talking about making that safe space outside those four walls. What we have seen is that children will castigate other children without mercy online, in ways that is brutal that they start voicing opinions different from their own."
Vroonland added that he and MISD staff have seen many times how kids attack each online in "very harsh ways."
"We've got to call on parents, we've to call on kids and we've got to have processes by which we can make that safe or these conversations in school will not be safe. It's not because of the adults; it's because of the children," he said.
Mesquite High School Principal Gerald Sarpy went over leadership development and principal driven initiatives to ensure student voices are evident in campus concerns and decisions.
"One of my most important missions around this work is (that) we have got to eliminate line in the sand thinking. We have got to come back to dialogue and have conversations, and they need to be open, and they need to be conversations that lead to changes in hearts and minds," Vroonland said. "You don't change people's hearts and minds (with) line in the sand thinking, and right now there's far too much of that."
"We've got to eliminate that line in the sand and make it more of a conversation around how do we respect each other? How do we come together? And how do we remove barriers to opportunities for all children. We have barriers for all children," he continued.
He also noted that data for MISD graduation rate shows that it's lowest among poor white students.
To learn more about LET, visit mesquiteisd.org/community/leadership-empowerment.