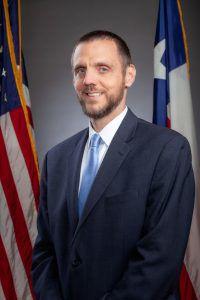 The Mesquite City Council received a briefing regarding public transportation options and discussed proposed changes to COMPASS Route 282 during the June 3 City Council pre-meeting.
City Manager Cliff Keheley said transportation is listed as one of the top four biggest issues that Mesquite will face within the next five years. At last year's budget sessions, the council directed staff to proceed with meeting the following goals in regards to public transportation: Provide connection to the DFW Metroplex, possibly independently from DART; provide public transportation alternatives to centers of employment, education campuses, medical facilities, and retail shopping destinations; and relieve stress on current Demand Response services. Staff was also directed to think outside the box – exploring partnerships with Transportation Network Companies like Lyfit and UBER; and to develop pilot programs to determine what the transportation needs are in Mesquite.
"We were directed to maximize our current funding sources through the FTA and TxDOT, and to also seek out new grant funding," Keheley said. "There was discussion to consider the impact of any new programs or expansion of services on the general fund and to also look at reducing or eliminating the use of the 4B Quality of Life Funds for transportation as we move forward."
In FY2019, the city reduced the COMPASS service from 26 hours to 19 for this year.
"We were also looking to evaluate our existing partnership and research alternatives to COMPASS. This included moving away from our three-party interlocal agreement with DART and STAR to making it just a two-part interlocal agreement," Keheley said. 
"We are evaluating the COMPASS service with other routes, potentially at the Town East Express Route. We're also exploring DART's ability to extend service boundaries into the city limits. And we evaluated STAR's ability to add peak demand Demand Response buses." 
He added that they're also looking to develop funding implementations based on mobility on demand and would like to have a pilot program in place by FY2020.
"As we progress through the next five years, we're looking at improving and expanding those types of services. We're looking at a model that has a demand response, mobility on demand, and a fixed route into Dallas," Keheley said. 
STAR Transit Deputy Executive Director Mike Sims said their current Mobility on Demand (MOD) operation has customers calling in and the driver arrives within 15 minutes. 
Their policy was updated and adopted FY2019 to institute STAR Transit MOD fare structure. Rides within travel zone are $3, and rides to a STAR Transit bus route within travel zone is $1.
"The fare structure wouldn't actually be that much different for the rider. If we go to a two-party system instead of a three-party system, what's the impact on them?" Sims said. "If they are a qualified elderly, veteran or disabled, there's no fare to ride a fixed route with STAR Transit and there'll be no impact on those folks."
Sims said their FY2020 service improvement is to increase geographic coverage, add app-based MOD service requests to existing phone-based MOD service requests, and add app-based payment options to existing payment options. 
"Our goal would be to improve the service by changing where we start and end, and making sure that we manage that in a better way," he said.
"Our intent is to not impact Demand on Response because it impacts the most people. But we feel that Mobility on Demand will enhance Demand Response, that it'll allow more ridership for Demand Response trips," Keheley clarified. 
He added that they hope that MOD will tell them who their riders are, where they live and where they're going so they can look at options to expand funding to allow for different types of transportation services, which could include a fixed route or an internal circulator, if there's a demand.
Council's consensus was to enter into a new interlocal agreement with STAR transit and consolidate all public transportation services under STAR Transit.