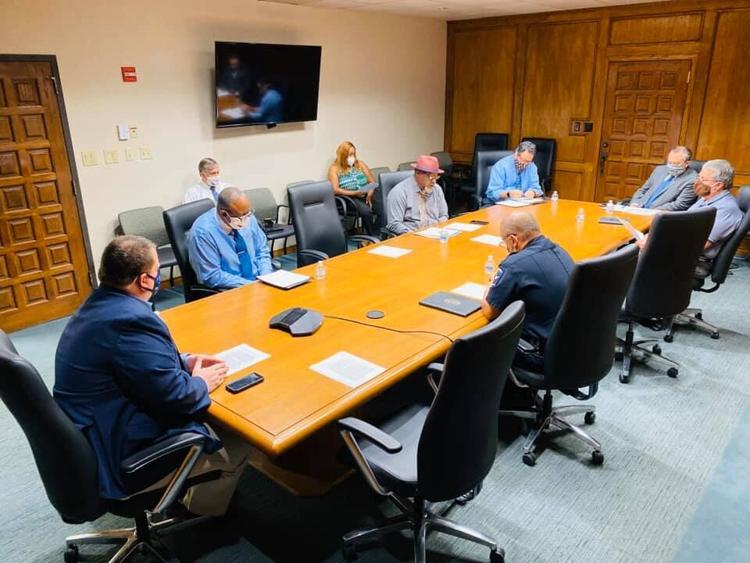 The Mesquite Tri-East NAACP has been meeting with Mesquite city officials and Police Chief Charles Cato to discuss 10 items that the organization, clergies, community leaders and activists would like to see implemented.
These meetings came soon after the death of George Floyd in May.
"We thought it was time for us to revisit some things that have been on the books that citizens particularly have had a problem with, so we met twice in June and we delivered a 10-point recommendation to the city of Mesquite," said Henry Brown, Mesquite Tri-East NAACP president.
Those 10 points are:
1. Ban of the prone position restraint; all choke holds that restrict normal breathing patterns
2. Meeting confer contract between the city and the Mesquite Police Association plus standard operating procedures (SOP) for the Mesquite Police Department
3. Construction of a behavior or mental health unit within the police department
4. Body cam rules to protect residents during an arrest
5. Develop a diversity/intersectionality/discrimination officer who specializes in minority affairs
6. Rotation of school resource officers (SRO) and aggressively track complaints of misconduct by students or staff against said officers
7.  Social programs to help the minority community, reinvesting into the community to improve the quality of life for all residents
8.  Citizen Advisory Board or Commission
9. Refer to number 6 for comments
10. Proclamation and resolution by the city to denounce injustice and vow to eliminate racism from city practices and to say Black Lives Matter
Brown noted that about five of these items have already been addressed by the city/police department including one, five and 10.
He said that although the prone position and chokeholds have been banned for many years the MPD allows a carotid restraint. Cato had noted in a previous interview that the carotid restraint is being raised to the level of deadly force.
Brown said that the NAACP's position is to ban all chokeholds. 
"We also asked for the rotation of the SROs because in a lot of schools in Mesquite these SROs have been in position a long time, and they have become one with their principal," Brown said. "Our argument is that sometimes you can be in one place too long and it can sometimes compromise the integrity of the position and can create problems for the student."
His example is if a principal has a problem with a student the SRO could be influenced to feel the same way or vice versa.
Brown said the Mesquite NAACP has received complaints about misconducts about SROs in various schools from parents. In some cases the SROs are writing felony charges against 14- and 15-year-olds and he's had to defend these students and try to get these charges removed.
"There's a lot of stuff going on with the SROs that we're not comfortable with (and) we're trying to prevent the pipeline from the schoolhouse to the penitentiary, and one way we can prevent it is by having more checks and balance systems with the SROs," he said.
In regards to a behavior/mental health unit, this is something the city is already working toward.
"They (the city) have been very supportive of a lot of these ventures, but one item we're still talking very heavily about is the Citizen's Review Board (CRB)," Brown said.
He explained that the vision of the Mesquite PD CRB is to be the conscience of the MPD insuring it fulfills its commitment to serving and protecting all the residents and visitors of the city of Mesquite. 
"The Citizen's Review Board will be a voice for citizens and the police department regarding policing policies and procedures," Brown said. "The Citizen's Review Board will investigate, review and provide written advice regarding alleged or perceived police misconduct to the chief of police or the city manager."
He emphasized that the Citizen's Review Board will not have the authority to hire, fire or discipline any member of the MPD or their budget. This authority resides with city manager, city council and police chief.