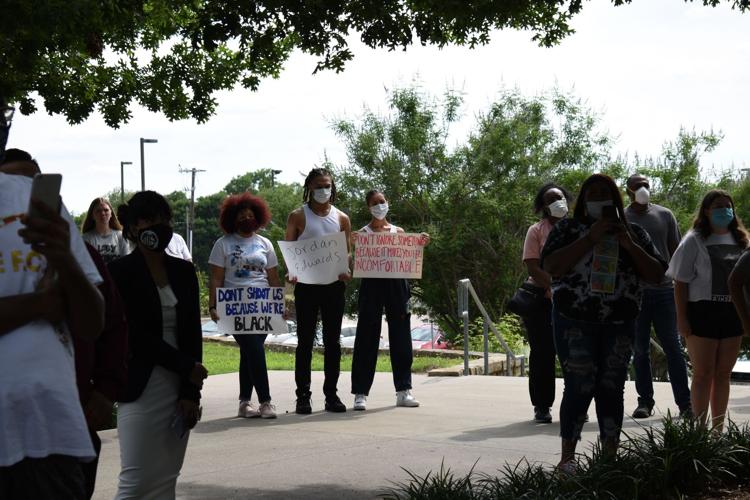 Following the death of George Floyd in Minneapolis, Minnesota, on May 25 in which former police officer Derek Chauvin is charged, people across the country have gathered to protest, and police departments have issued statements on police brutality, including in the Dallas-Fort Worth area.
On Sunday afternoon the Mesquite NAACP held a press conference outside of Mesquite City Hall to launch a movement to get the "prone position" with the knee in the back of the neck removed from law enforcement arresting methods in North Texas. The position is defined as a method of restraint that is controversial in policing.
"We collectively demand our legislative body in Austin to foster different laws to regulate criminal justice and judicial misconducts surrounding the arrest or apprehension of suspects, with penalties in tow. The prone position, with the knee on the back of the neck, is deadly. This should be called horizontal lynching," said Henry Brown, president of the Mesquite Tri East NAACP. "In the past they used trees but now they use the prone position. We are aware most police department SOP (standard operating procedures) doesn't encourage this method. They don't encourage this method of arresting, but we understand that when the night falls you will be surprised what manner of policing an individual will encounter."
Brown said the Mesquite NAACP is launching this movement to get the prone position removed from law enforcement arresting methods throughout all of North Texas because it is controversial, and he said studies have shown that it increases the risk of suffocation and sudden death.
"We decided to push on the local level in the state level to eliminate this form of arresting procedure because it's cruel and it's proven to be deadly, and is a violation of individual civil rights, whom presumably has a right to stand before a judge and jury to answer for the crime that they have been accused of. This prone position, with the knee on the neck, diminishes that opportunity; it causes death in more cases than one," he said.
Members of the Mesquite City Council, including Mayor Bruce Archer, were in attendance, as well as Balch Springs Council Member Tartisha Hill, who noted the shooting death of Mesquite teen Jordan Edwards at the hands of former Balch Springs officer Roy Oliver.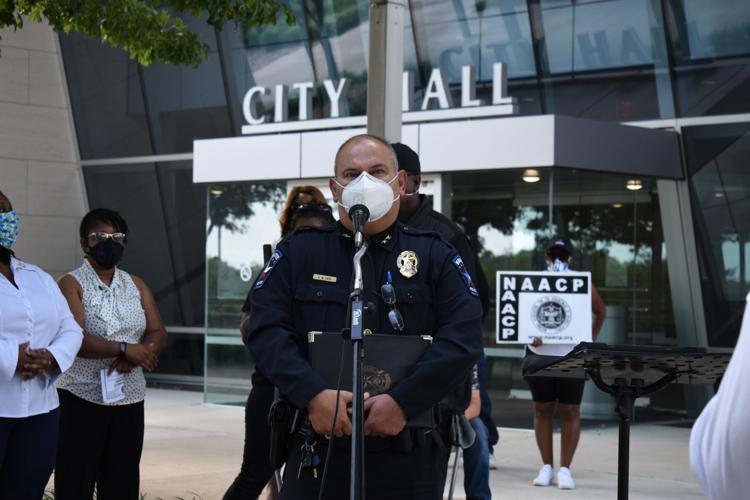 Police Chief Charles Cato spoke on why he chose to join law enforcement.
"I can't even imagine what it's like to be African-American in America. I can tell you from my own experience what it's like to be Hispanic in Dallas in the 1970s growing up. One of the reasons why I became a police officer is because I did not like the way I was treated growing up," Cato said. "My mission in life was to grow up to be a police officer, move up in the ranks so I can be a decision-maker, (and) have a seat at the table."
"The Mesquite Police Department is committed to Constitutional policing. What does that mean? We're going to respect the rights of people," he continued. "I can also guarantee this: When there is a problem, when something arises, we address it. When we mess up, we fess up and we clean up, we don't cover up. I promise you that."
Precinct 2 Constable Bill Gipson spoke on the riots, looting and violence happening around the country.
"Justice is not won by meeting hatred with hatred. People of color want their voices to be heard, and we support peaceful protests but not protests that become unruly and inciting riots," he said.
"As an African-American black male in America, as a father of a black son, I am no less mad than anyone else. We realize that there is a systematic racism in law enforcement, but in order to discover that fundamental root to the problem we must investigate the higher process of law enforcement profession and ongoing training," he added. "We cannot allow bad apples to overshadow all the men and women that strive each and every day to represent their community and serve their community, and protect their community."
Archer issued a statement following the press conference: "Today reminded me why I am so proud of the Mesquite community and humbled to serve as mayor. As some cities across the United States face turmoil and tensions in response to the incident of George Floyd, Mesquite fostered dialogue, not destruction."