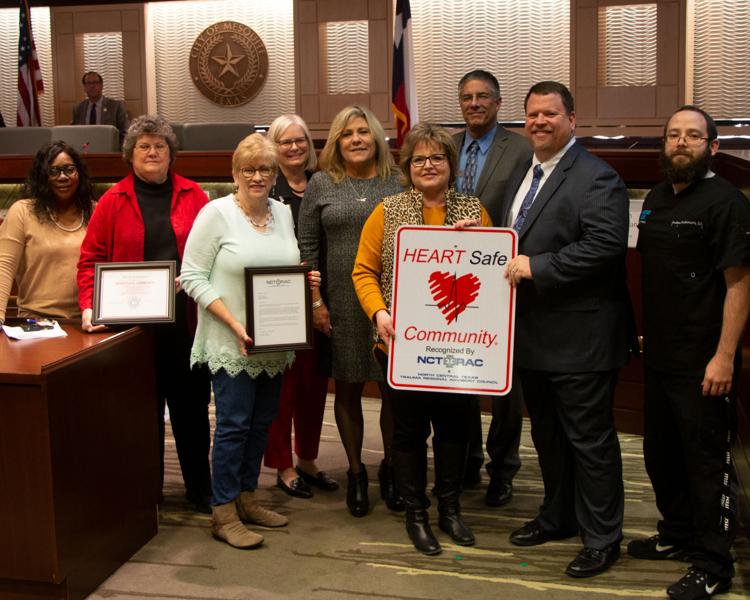 The Mesquite Heart Board presented the Mesquite City Council with information on its Heart Safe Community recognition during Monday night's City Council meeting.
According to the North Central Texas Trauma Regional Advisory Council (NCTTRAC), "the Heart Safe Community Program is designed to recognize the efforts a community makes to its citizens in protecting them from the effects of heart disease and sudden cardiac death by evaluating different aspects of the system as a whole."
NCTTRAC states this recognition requires a "multidisciplinary team approach to review and complete the components of the Heart Safe Community Program. Communities that successfully complete the application process are eligible to display the NCTTRAC Heart Safe Community street signs throughout their communities."
Lisa Fox, president of the Mesquite Heart Board and ER director at Dallas Regional Medical Center, briefly went over the steps they took to achieve this recognition.
"We have a dispatch system in place that is very helpful. As soon as someone calls 911 they're able to go over anything that they may need to do such as CPR," she said. "If you have a patient that is unresponsive they'll walk you through that, stay with you on the phone and help you manage CPR to that patient."
She added that the city's EMS/fire/first responders are all trained and experts in what they do.
"Our city of Mesquite plays a big part in this with raising awareness with heart disease. We have smoke-free ordinances; we have healthy menus in our restaurants for heart-healthy diets (and) caloric values on the menus," Fox said.
Other important pieces include parks, trails, recreation system and fitness facilities, Mesquite ISD and the Mesquite Heart Board, which recently became a nonprofit organization.
The Mesquite Heart Board holds an annual Mesquite Go Red Gala and the third one will be on Feb. 13. Fox said their first gala raised $23,000, which was sent to the American Heart Association.
"We became a nonprofit organization so that we can keep those funds here in Mesquite so that we can provide education, we can provide AEDs (automated external defibrillator) in our community, so that we can provide LifeVest (wearable defibrillator)," she said. "We want to give back to the community like that so we are very proud in achieving this designation."