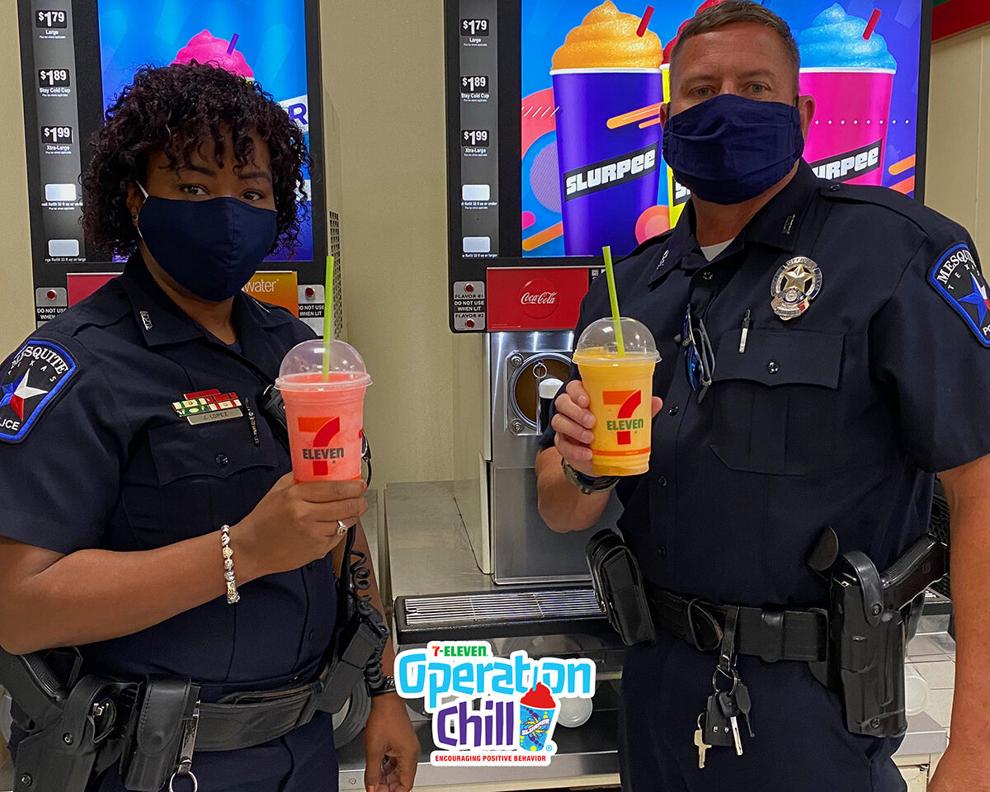 Yesterday, the Mesquite Police Department announced they are joining forces with 7-Eleven in their 25th Anniversary of Operation Chill to make a positive connection with kids by passing out free Slurpee drink coupons to reward children they see performing good deeds, positive activities or random acts of kindness.
"Our police officers will be out in neighborhoods and at local schools to watch for Mesquite kids doing something good. With all the stress and strain going on in the world today, these slurpees are one small gesture we can do to tell these kids they are important and that we care about them. We will put a Slurpee in their hand and a smile on their face," said Mesquite Police Chief Charles Cato.
Cato explained each coupon can be redeemed for one small Slurpee drink at any participating 7-Eleven store.
Operation Chill, is 7-Eleven, Inc.'s longest running community service program.
"With a simple Slurpee coupon, the Operation Chill program lets local officers connect with kids and recognize their good behavior, which is essential to creating long-term positive relationships," said 7-Eleven President and CEO Joe DePinto.
Since the Operation Chill program began in Philadelphia in 1995, it has expanded to hundreds of cities across the country giving law enforcement officers a positive reason to interact with children and teens. More than 23 million Operation Chill coupons have been distributed to law enforcement agencies across the country.
"Community policing and building trust are some of the pillars for 21st century policing. We are going to use these free Slurpees as one small way to continue to strengthen our pillars here in Mesquite to build a better and more fortified relationship with our youth," Cato said.
He shared for those who may be curious; his favorite Slurpee flavor is Blue Raspberry, in honor of the back the blue campaign that highlights law enforcement officers, citizens and organizations taking extraordinary steps to forge positive relationships between law enforcement and the communities they serve.