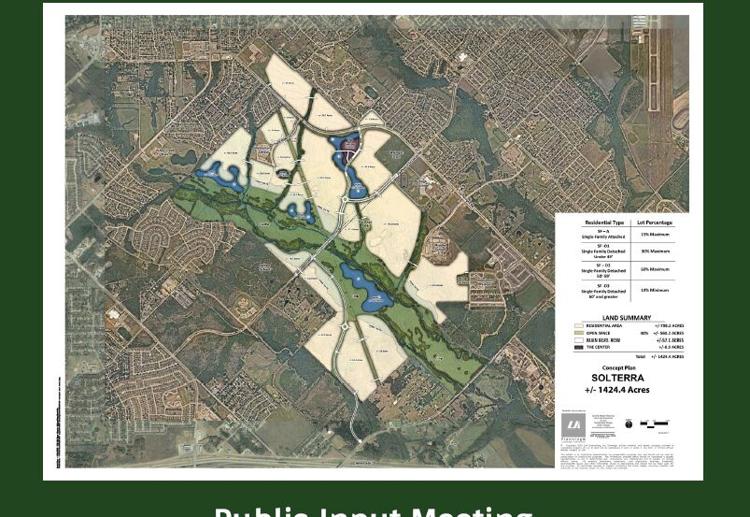 The Mesquite City Council held a public hearing on the proposed Solterra Development by Huffines Land Holding Partners, LP, during the Sept. 21 City Council meeting.
The public hearing was a request for a change of zoning from agricultural and planned development district to planned development district to allow for a master planned community that would allow for mixed uses, residential and commercial uses. The property is located southwest of East Cartwright Road and both northwest and southeast of Faithon P. Lucas Sr. Boulevard.
Four responses in favor and 16 in opposition to the application have been received from property owners within the statutory notification area. The Planning and Zoning Commission previously recommended approval.
After hearing residents' concerns the council unanimously agreed to leave the public hearing open until the Oct. 5 council meeting.
Garrett Langford, manager of planning and zoning, stated that the development is just under 1,500 acres, and the proposed planned development would allow up to 3,900 single-family homes, a range of residential lot sizes and home types, open spaces and trail plans, tree preservation plan, design standards and architectural standards (included in the development agreement).
He added that since the last presentation the developer has asked to remove the proposed single-family rental units from the PD.
"We removed the single-family for rent … that came up as a concern for many folks, so we decided to just withdraw that portion from the PD," said Thomas Meurer, senior planner and landscape architect on this project.
Councilman Tandy Boroughs said he visited several Huffines communities and noted that a couple of them didn't look good.
He also noted that the farm-to-table aspect of it is appealing but said once Huffines pulls out of the area someone needs to manage and pay to maintain the animals and crops and asked if they have plans to sustain these programs after they're gone.
Councilwoman Sherry Wisdom expressed concern about the price point of homes.
"I think it's a beautiful idea, and I like it. The one thing that concerns me about it though is the price point because the median income is around $59,000," she said. "My concern is that if it's way overpriced it'll be great for the tax base, but what families are really going to be able to afford that?"
"With regards to the homeowners associations, they are the ones responsible in two of those communities for enforcing the code enforcement," said Phillip Huffines, co-founder of Huffines Communities. "As far as landscaping and painting houses, when we finish building a community, the HOA is fully funded with reserves to take care of all of the improvements, and it's the individuals who live in that community, who elect the homeowners board, it's those individuals who are responsible for whatever activities or however they want to run that master plan community."
He added that they can't return to a community to try to enforce anything, and in regards to the Solterra amenities, he said their budget is built to subsidize the community dues during the initial years in order to cover amenities. Once the community matures and a builds out he anticipates there'd be enough money to pay for staff to maintain those amenities, but the HOA board can also change where they choose to spend the money.
Several residents shared their own concerns that night such as density, traffic and wildlife being pushed into nearby neighborhoods due to development.
Mayor Pro Tem Robert Miklos went over the density for Solterra in comparison to other developments in Mesquite.
"The density is smack dab in the middle of what Mesquite has done in the last five years," he said. "The second thing is that we just have a market place where everywhere in North Texas home builders are responding to the marketplace and selling smaller lots to the millennials and also to the empty nesters. And they wouldn't be pressing us to build it if they couldn't sell it, and they wouldn't be pressing us to build it if they didn't have market studies that said that would be the product that would fly off the shelves."