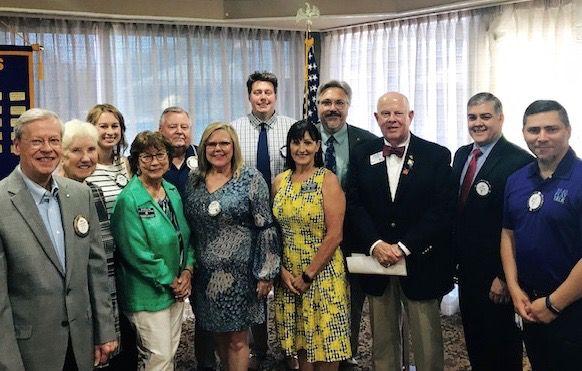 The Mesquite Rotary Club held induction ceremonies for the group's 2019-2020 officers and board members at their meeting on July 9.  All 33,000 local clubs in Rotary International change their leadership in July each year.  This provides for fresh vision and energy throughout the worldwide organization of business and professional leaders, which was established in 1905.  The ceremonies were performed by the Rotary District 5810 governor-elect John Moser.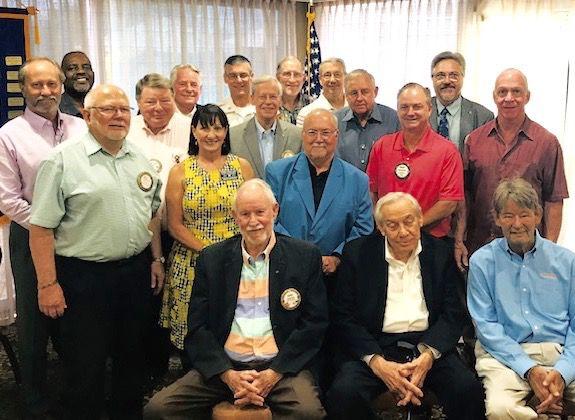 The new leaders inducted to serve during the 2019-2020 Rotary year were club president John Taylor, president-elect Dr. Angel Rivera, past president Michael Hooker, vice president Jeff Jones, secretary Lindsay Paris, treasurer Dennis Tarpley, club service director Teresa Jackson, community service director Evelyn Williams, international service director Debi Holley, public relations directors Dr. James Griffin and Vince Falsarella, and sergeant at arms Helen Ethridge.  Debi Holley also received recognition from Rotary district officials for becoming a second-level major donor to the Rotary Foundation.
President John Taylor also led a celebration of the Mesquite Rotary Club's 60th anniversary at the meeting.  A brief discussion of the club's history since receiving its charter from Rotary International in June of 1959 occurred.  Then, Mesquite Mayor Stan Pickett spoke to the members of the city's appreciation of the importance of the club's service, and about some of the positive contributions that the club has made to the community over the years.  Sixteen current and former members who are past presidents of the club were in attendance.  The notable community leader B.J. Smith was the senior member of that group, having served as the club's president back in 1968-69.
The Mesquite Rotary Club meets at noon each Tuesday at the Dallas Athletic Club. For more details on the group, visit their website at mesquitetxrotary.org.