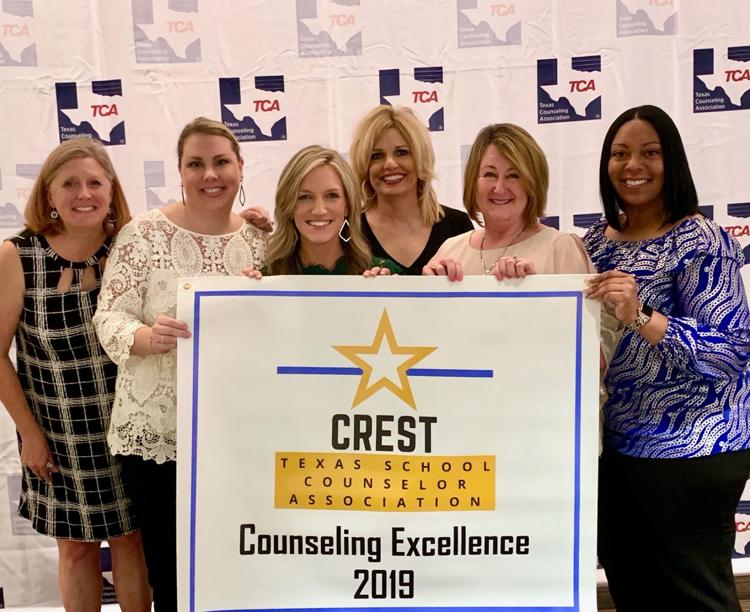 The Poteet High School counseling team was recently recognized by the Texas School Counselor Association (TSCA) for their work and dedication to their students. The team accepted their Counselors Reinforcing Excellence for Students in Texas (CREST) award during a ceremony Sunday night.
The CREST award is granted to school counseling programs that meet CREST requirements.
According to the TSCA website, CREST is a "continuous improvement document that school counseling programs can use to demonstrate effective communication and commitment to obtaining results."
This award recognizes schools across Texas that appropriately utilize their professional school counselors and demonstrate a continuous commitment to building a campus team and programs based on the Texas Model for Comprehensive School Counseling Programs, endorsed by the Texas Education Agency (TEA).
"The CREST is important for school counseling in Texas because it helps us advocate for our program, it documents how we support student success and aligns our school counseling program to state, national and legislative standards," said Poteet counselor Kristy Davis.
"We are so honored and excited to receive this award because it highlights the great work of Poteet High School counselors and the Mesquite ISD Counseling program," she continued. "MISD counselors are passionate about the work that we do and the direction that our program is heading. Winning awards like the CREST shines a light on the innovation and development happening in MISD Counseling right now. Poteet is the first school in MISD to receive the CREST, and we hope it is the first of many!"
Professional school counselors receiving the CREST award use data-driven results to show the effectiveness of their comprehensive guidance and counseling program, according to TSCA.