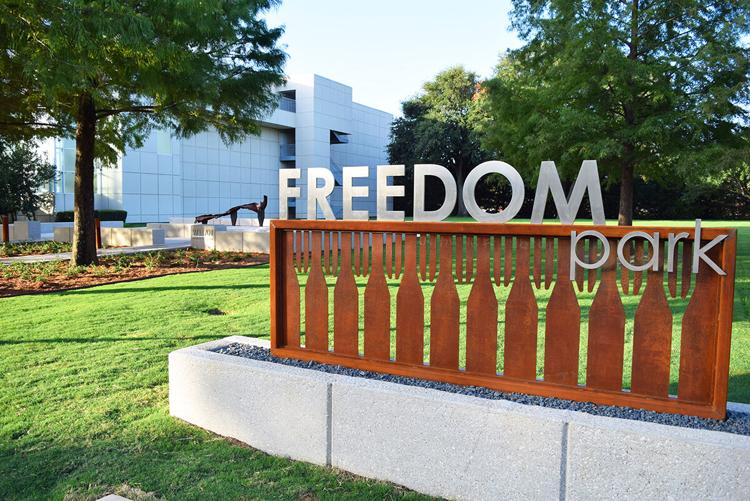 Instead of its annual public event, the city of Mesquite will host a live video broadcast of a private gathering for the  9/11 Memorial on its Facebook page www.facebook.com/cityofmesquitetx and make the video available on its website and other communication platforms later in the day. The sunrise memorial will commemorate "Patriot Day" which is the anniversary of the September 11, 2001 terrorist attacks. Out of an abundance of caution and in line with the guidance regarding social distancing, this year's 9/11 Memorial will not be a public event. The public is encouraged to choose a time later in the day to visit Mesquite Freedom Park at the Mesquite Arts Center.
Mesquite Fire Chief Mark Kerby explained, "This modified program will allow the city to honor the fallen with a meaningful and safe ceremony. We will have only a few select participants, and we ask the public to support our efforts by not attempting to visit Freedom Park during the program, but choose a time later in the day to reflect on the meaning of the day in a safe manner."
Kerby shared that the 9/11 program will include remarks by Mayor Bruce Archer, the reading of both the Police and Firefighter Prayer, and a smaller assembly of the color guard as well as pipe and drum.
The 9/11 Memorial is a tribute of remembrance, honoring the victims killed in the terrorist attacks of September 11, 2001 at the World Trade Center site in New York, near Shanksville, Pennsylvania, and in Washington, D.C at the Pentagon. Of those who perished during the initial attacks and the subsequent collapses of the World Trade Center, 343 were New York City firefighters, 23 were New York City police officers and 37 were officers at the Port Authority.
In 2011, the Mesquite Fire Department was entrusted with a historic piece of steel from one of the Twin Towers destroyed on 9/11. The 15-foot long, 575-pound twisted beam is the centerpiece of Mesquite Freedom Park.  With the support of the local community, the City of Mesquite created an outdoor place of gathering, reflection and celebration of freedom on the North Lawn of the Mesquite Arts Center. A park dedication ceremony was held on September 11, 2016 as the country marked the 15th anniversary of 9/11.