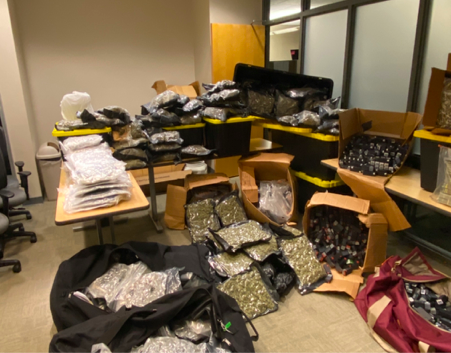 Several months ago, the Mesquite Police Department Narcotics Unit began investigating a low-level local narcotics dealer who was selling small amounts of marijuana and illegal THC products in the city of Mesquite.  That investigation led to the arrest of not only the local dealer but also identified numerous high-level narcotics traffickers involved in a larger-scale drug trafficking organization.  This organization is suspected of transporting thousands of pounds of illegal marijuana and delta-9-tetrahydrocannabinol (THC) products into Texas and multiple states across the U.S.  These products included marijuana, THC edible candies, THC vapes and psilocybin mushrooms.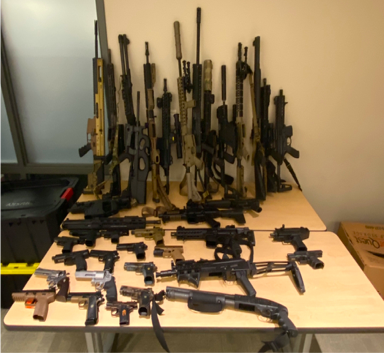 During this investigation, the Mesquite Police Department Narcotics Unit along with members of the Dallas Drug Enforcement Administration (DEA) executed multiple search warrants at various residences and businesses resulting in numerous arrests and the seizure of the below listed items.
Over 7,800 individual packages of high concentrated THC edibles and THC vape cartridges
Over 1500 pounds of marijuana
14 Rifles
4 Shotguns
20 Pistols
4 Firearm Suppressors/Silencers
9 vehicles
Over $525,000
This investigation has resulted in the dismantling of a major illicit organization responsible for trafficking narcotics across the United States.
"As we recognize our MPD Narcotics Unit for doing an outstanding job on this case, we would also like to take a moment to highlight the potential dangers of the THC edible candies. Many of these products are targeted at the youth in our community and as can be seen in the photos, these drug-laced edibles are often packaged like regular candy and may be hard to distinguish from real candy," MPD stated. "THC in edible candies can be dangerous for those who unknowingly ingest it since it usually takes longer to take effect than typical marijuana, so the person ingesting it may ingest an excessive amount before realizing they are affected."
Warning signs for parents that a child may have eaten something laced with THC   include excessive sleepiness, dizziness, trouble walking, panic attacks, rapid heart rate and trouble breathing. Parents who think their child may have eaten drug-tainted food should seek medical help immediately.
For more information on the effects of marijuana and marijuana edibles, visit the Centers for Disease Control at:  https://www.cdc.gov/marijuana/faqs/edibles.html