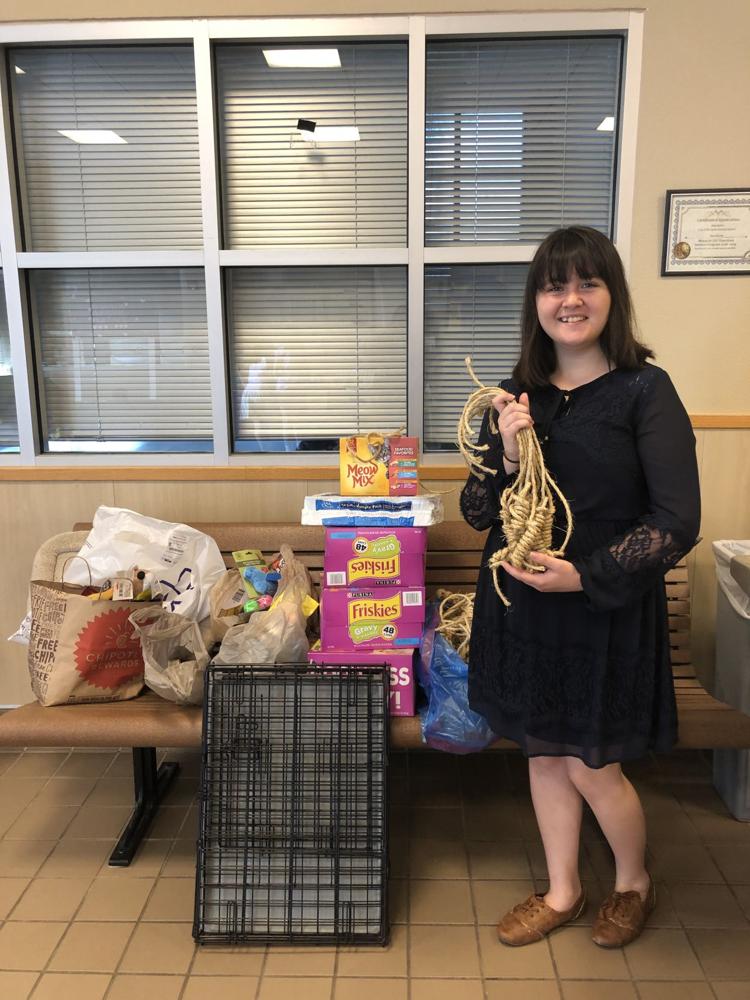 North Mesquite High School 2019 graduate Sadie Twomey was recently named a recipient of the Gold Award, Girl Scout's highest recognition. Her project raised awareness for the needs of the Mesquite Animal Shelter. She created three bilingual posters for the shelter's lobby to educate pet owners on the cost of owning a pet and the importance of spaying and neutering pets. She also designed two pamphlets for children on pet care and held a donation drive where she collected over 300 items.
How does it feel to win the Gold Award?
I am absolutely thrilled to have finally earned my Gold Award! I have been in the Girl Scout program for about a decade, so it's very rewarding to know that all that hard work has built up to something worthwhile.
Why did you choose to do your project on the Mesquite Animal Shelter?
I chose to do my project on the Mesquite Animal Shelter because animals have always been a very important part of my life. My family and I have cared for nearly every kind of pet, ranging from cats we adopted on the streets, to frogs my elementary school let us take home. I was always eager to develop a bond with them as soon as the little critters would let me. I chose the Mesquite Animal Shelter specifically because I wanted to give back to my community in a more local sense.
Why do you feel it's important to educate children on proper pet care?
I think it's important to educate children on proper pet care because many of them don't understand that their way of showing affection may accidentally come across as scary to their pets. If the older generations take the time to properly educate them on pet care, then the children will carry the skills they have learned into adulthood and become responsible pet owners that recognize the wants and needs of their pets. Hopefully this rise in pet care education will lead to a decrease of animals in shelters as well!
What was your favorite part of your Gold Award project?
My favorite part of my Gold Award project was probably handing out pamphlets and teaching children how to make the cat scratchers at a few of the local elementary schools. It was lovely to see how interested the kids were in pet care, and it was fun to answer all their enthusiastic questions about my project.
What has your experience with Girl Scouts taught you?
During my time in the Girl Scouts, I have learned leadership skills, how to work together as a team with my troop, and how to have faith in my own decision-making.
What have you learned about yourself during these unprecedented times?
During the pandemic, I have learned that I am lucky to have so much entertainment at my disposal. Between our DVDs, our books, and a few streaming services, it's unlikely that I'll ever really run out of comfort media to consume. Being cooped up inside has also made me more appreciative of all the ways we can connect to our loved ones via the Internet.
Would you recommend Girl Scouts to young girls? If so, why?
I would definitely recommend Girl Scouts to young girls! I made so many fond memories on campouts, and it provides many opportunities later in life (scholarships, networking, etc.). My experience in Girl Scouts has also helped me develop skills and habits that I still use to this day, such as how to budget an event, the importance of cleaning up after yourself, and the Leave No Trace attitude about wildlife areas.
Are you in college? If so, where and what are you studying?
I am currently studying at Eastfield Community College (Dallas College Eastfield Campus) to get my associate degree and then transfer to a four-year university.
Who do you admire the most and why?
I admire my mother the most because she is the most competent and kind person I know. She was the most actively supportive of me while I was earning my Gold Award. Whenever I doubted that I could actually finish my project, she was the one to encourage and reassure me that I can do anything I put my mind to.
What are some of your hobbies?
In my free time, I enjoy reading and making art (usually through drawing or painting). I also really enjoy playing with and taking care of my own cats in my free time, but that probably counts more as a responsibility than a hobby.