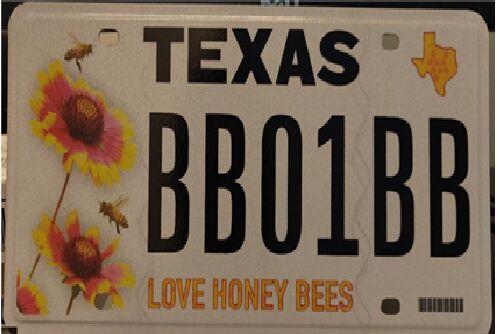 Texas loves honey bees! The Texas Honey Bee Education Association(THBEA) recently introduced a new way for Texans to support education and research programs dedicated to preserving and protecting honey bees. The new THBEA "Love Honey Bees" license plate is now available for sale online and in county tax assessor offices where license plates are sold and renewed across the state.
The license plates are available for cars, trucks, motorcycles, trailers, and RVs at a cost of $30 per year. This annual fee is in addition to the regular registration costs.  For every license plate purchased $22 will go to the THBEA for youth and beekeeper education programs, information resources for farmers and the general public, and research programs to improve honey bee health and longevity.  You do not have to wait until receiving your renewal notice.  You may order your "Love Honey Bees" license plate at any time and the cost will be prorated. To purchase the plate online go to www.txdmv.gov/motorists/license-plates or  visit your local tax assessor office.
"We're pleased to be able to offer a way for Texans to show their care and concern for honey bees," said Roger Farr, Chairman of the THBEA Board which championed the new plate. "We hope honey bee loving Texans will buy the plate and bring visibility to much needed honey bee research and education efforts for this very important insect." 
The Texas Honey Bee Education Association is a controlled entity of the Texas Beekeepers Association (TBA).
"Education of beekeepers and citizens encourages everyone to love honey bees by utilizing best beekeeping practices, planting flowers in public spaces, and utilizing pesticides and herbicides only when necessary and not when honey bees are foraging," said Ashley Ralph, TBA President.
Texas has an estimated 5000 beekeepers who love their honey bees and make their pollination services and honey available to other Texans.
For more information on how you can show love for honey bees through practices and actions you can implement at home visit thbea.com/resourcesto download the pamphlet "How You Can Help Honey Bees". To learn more about honey bees or becoming a beekeeper, visit the TBA website at texasbeekeepers.org.