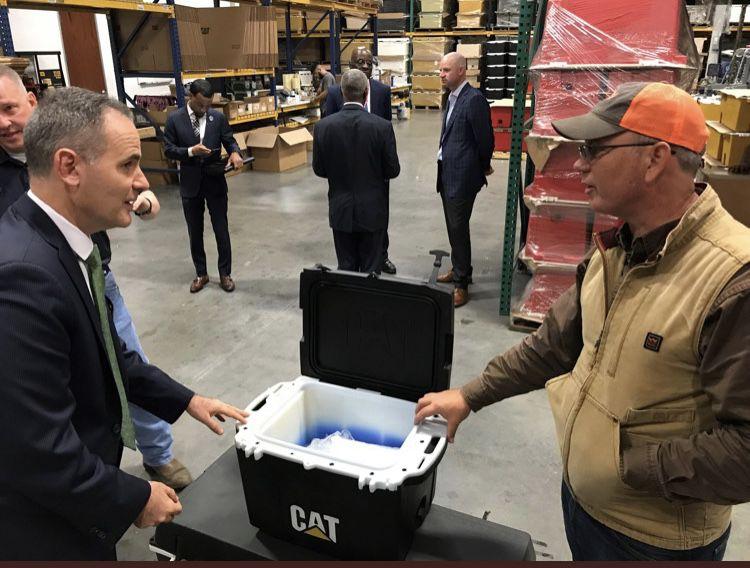 On Nov. 7 Chris Pilkerton, head of the U.S. Small Business Administration (SBA) and advocate for the nation's 30 million small businesses as a member of President Trump's Cabinet, visited Taiga Coolers, a veteran-owned small business in Mesquite.
Taiga owners John Hoenshelt and Wayne Ostrander are both U.S. Army veterans who manufacture custom, heavy-duty coolers. 
"It was an honor to have Chris at our facility.  When initially contacted, I failed to understand the significance of the event.  After speaking with his staff and my banker who assisted us in obtaining the SBA loan years ago, the significance became apparent," said Hoenshelt.
"It's a veteran-owned business that's doing some innovative work in their space and they're exporting all around the world," Pilkerton said about Taiga.
"What we're focused on now is helping small businesses grow but also helping them take advantage of opportunities through trade. And we're focused on the US-Mexico-Canada Agreement; we believe that that's going to be a game changer for small businesses," he added. "In fact, it's the first of its kind to have a small business chapter that lays out opportunities, protection and fair treatment for small businesses."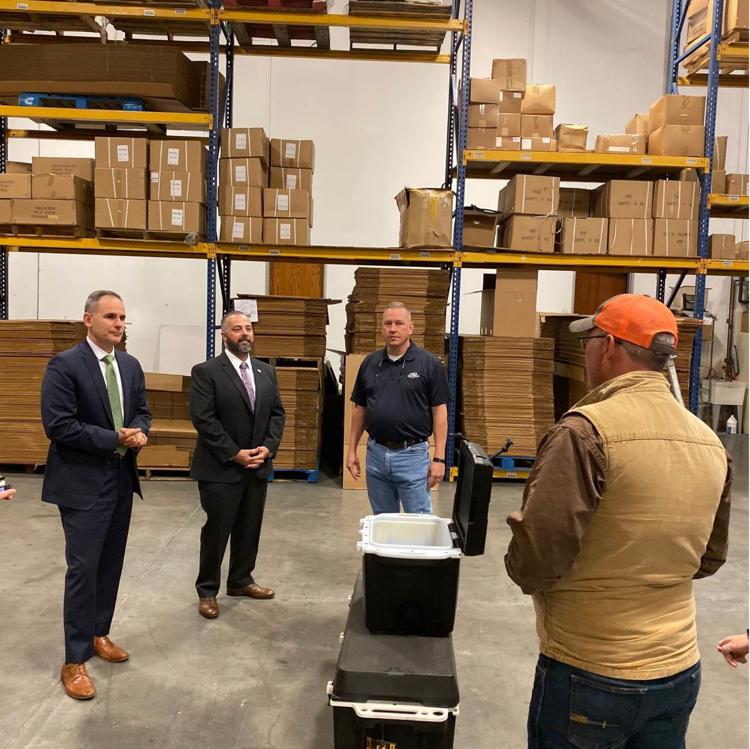 Pilkerton's visit also highlighted the sixth annual National Veterans Small Business Week, Nov. 4-8, and SBA is among several agencies that focus on strengthening resources to assist veterans.
"Small businesses are the backbone and the engine of any economy. They make up the largest majority of businesses and they employ our neighbors and our communities," Pilkerton said.
He also presented the keynote address at the Business Beyond the Battlefield Conference in Arlington and spoke on the contributions veterans make to small businesses and the workforce, as well as training opportunities that SBA helps to support, access to capital and government contracting opportunities.
"I have been a small business owner since I left the Army.  I have spent much time with other business owners over the last 20 years.  They are a very important group in society that takes the risks, employs many people and supports the local communities.  The SBA supports this group of business owners," Hoenshelt said.
According to a press release, nearly one in 10 U.S. small businesses are veteran-owned and they employ about 6 million workers. All except less than 1 percent of veteran-owned businesses are small; 15.2 percent of veteran-owned businesses are owned by women, and veterans are 45 percent more like to be self-employed than those with no military experience.
"There's 2.5 million veteran-owned businesses across the country and over 200,000 in Texas, and one of the things veterans learn during their time in the service is the ability to operational, to be tactical, and to execute and to take risk," Pilkerton said. "All of those things as well as many of the other lessons that they learn are key to the small business entrepreneurs."
"One thing I try to tell anyone that I talk to, there's great resources out there that are available to you, please take advantage of them," he added.
To learn more about the U.S. Small Business Administration and discover resources to help your small business, visit sba.gov.