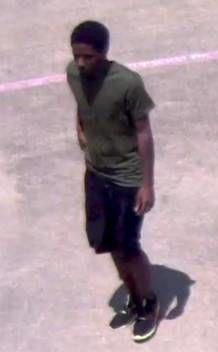 At about 3 p.m., yesterday, the Mesquite Police Department was informed of a robbery that had just occurred near the basketball courts at Pirrung Elementary. Police were told that a male subject had picked up two cell phones that had been left on the grass while their owners played basketball, when the individual was confronted by the owners of the cell phones the suspect reportedly pulled out a handgun and threatened the cell phone owners.
The suspect was said to have ran off into the neighborhood. No one was injured in this incident.
The Mesquite Police Department seeks the public's assistance in identifying the armed robbery suspect who is described as being a black male, 17 to 20-years-old, short hair, 6'1", medium build, wearing a green shirt and black athletic shorts.
Crime Stoppers will pay up to $5,000 for information called into Crime Stoppers that leads to the arrest and indictment for this felony offense. If you have information about this crime, call Crime Stoppers at (214) 373-TIPS; or contact the Mesquite Police Department at 972-285-6336.