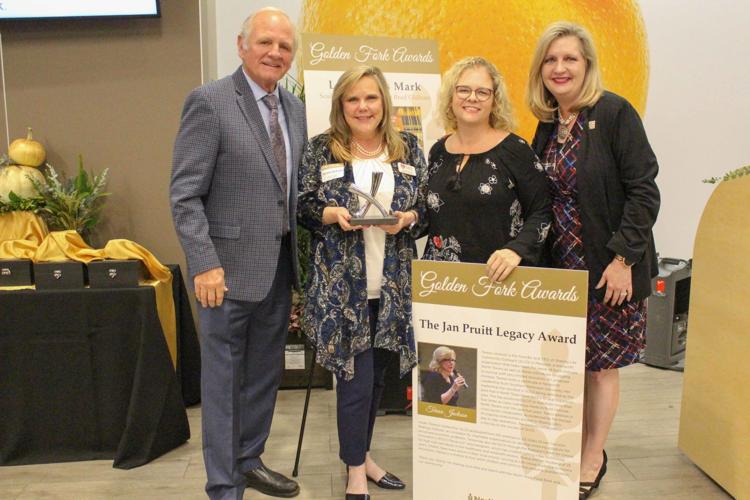 The North Texas Food Bank (NTFB) honored its top supporters and volunteers during its 12th annual Golden Fork Award ceremony last week in Dallas. The awards were presented to individuals, foundations and corporations that exemplify commitment and dedication to hunger relief in North Texas.
"Every year we honor our most compassionate hunger fighters who have given incredible support to help us battle food insecurity," said President and CEO Trisha Cunningham. "To paraphrase from one of our hungry neighbors – a single mom and cancer survivor – who receives support from a local pantry – it takes a special person to give to people they don't even know. The commitment of this year's recipients is truly remarkable. Our mission could not be fulfilled without the generosity of individuals like these in our community."
Among the winners was Mesquite's own Sharing Life founder and CEO Teresa Jackson, who received the Jan Pruitt Legacy award.
According to NTFB, this award honors NTFB's late CEO Jan Pruitt, who had a passion for helping her neighbors in need. The award was created in her memory three years ago.
A press release states that in 1992 Jackson was a single mother of three boys and needed help and sought assistance from her local pantry and was met with people who made her feel helpless and ashamed. From this experience she found her calling, and in 1999 she founded Sharing Life Community Outreach in Mesquite, an NTFB food bank partner agency now considered a well-respected nonprofit organization that helps meet the needs of food-insecure North Texans.
Sharing Life operates a client choice food pantry, provides rental and utility assistance, financial empowerment training, gently used clothing and medical equipment in a loving and compassionate environment. In 2016, Sharing Life became an official Food Bank hub, operating like a mini food bank and distributing food from NTFB to 60 food pantries.
"I am honored to the recipient of the Jan Pruitt Legacy Award presented by the North Texas Food Bank," Jackson said. "Jan was a legendary woman and leader. She cared for everyone and treated all with kindness and respect. Her passion for eradicating hunger was infectious. Having her speak into my life and leadership made me better. I am very grateful to my team at Sharing Life and to the leadership at the North Texas Food Bank for their hard work and expertise."
According to NTFB, last year, it worked in partnership with member agencies from our Feeding Network to provide access to almost 77 million nutritious meals across a diverse 13- county service area — this means more than 200,000 meals per day for hungry children, seniors and families. But the need for hunger relief in North Texas is complex and in order to meet the need the NTFB is working to increase our food distribution efforts. Their goal is to provide access to 92 million nutritious meals annually by 2025. For more information, visit ntfb.org.