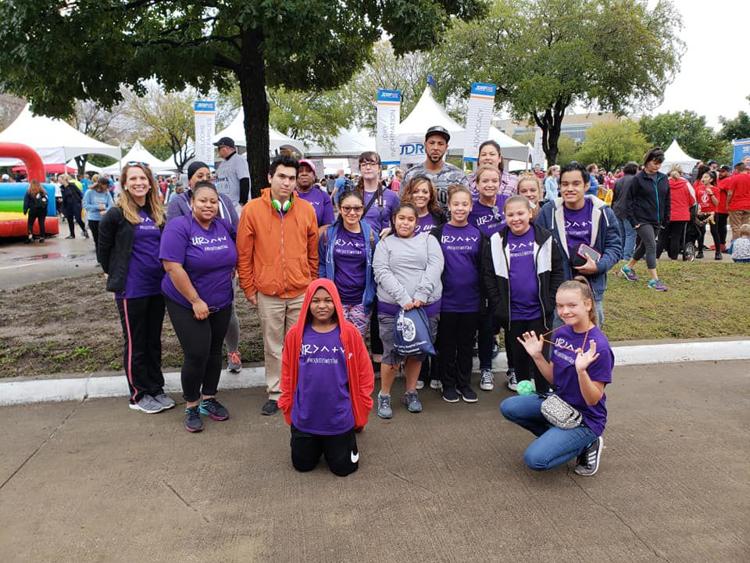 When you're living with a disease it can be lonely not having someone to talk to or share your experience with someone who can truly relate. This was part of the reason why Sweet Talk got started by school nurse Nadene Minyard. 
Sweet Talk's purpose is to strengthen the diabetic community in Mesquite and surrounding areas through education, advocacy and connection.  The group began in 2015 at Mesquite High School when Minyard saw there was a need.
"We had a group of type 1 diabetics who were students where and each of them struggled with their condition/diagnosis in their own way, but the commonality was that every student that had type 1 diabetes had additional struggles and they were having trouble coping," Minyard said. 
What started out as a school based group slowly grew into a community group when another school nurse, Lisa Marie Rainwater, got onboard. 
Minyard said Rainwater jumped in and started having group meetings at North Mesquite, then had the idea to have it at the Professional Development Center so that they could have monthly meetings for the entire community, reach more families and get more family involvement. 
"Where I saw the students having a lot of trouble. She (Rainwater) saw families and saw potential for that so it just grew," Minyard said.
"My husband is a type 1 diabetic so that's probably what drew me to 'Hey, not just kids are affected by this it also affects the entire family.' I come from that perspective of seeing how it affects my kids, how it affects my husband," said Rainwater. "I love the idea of being able to draw us all in together and be able to talk and have conversations, and kind of normalize the talk and not have a parent feel like they're the only one who's up in the middle of the night worrying about blood sugar."
Sweet Talk provides diabetics with a place to talk openly about things that only other diabetics can relate to that others of their peers may not fully understand. It's also a place where they can share their experiences and resources. 
"I remember my husband's diagnosis and how we felt alone, and how the first time he met somebody who also had type 1 diabetes as an adult. They became instant friends, and that guy was the reason my husband got an insulin pump," Rainwater said.
Another school nurse, Jenna Beard, joined Sweet Talk last year when she was diagnosed with type 1 diabetes.
"I was 28 at the time. Even as a 28-year-old woman, mom and wife, I felt alone. I know about the disease and I know how to handle it and I'm good at handling it, but I still felt alone and this group has made me come leaps and bounds," Beard said. "I feel like just seeing these kids be students at an elementary and high school level and thriving, it makes me feel so good knowing that younger people than me are doing amazing with this and it'll be okay."
The three spoke on some misconceptions the general public have of diabetes. They spoke on the two most commonly talked about – type 1 and type 2.
According to the Centers for Disease Control, more than 30 million Americans have diabetes, of that, 1.25 million have type 1, while 90-95 percent have type 2.
"The stereotype is that you got diabetes because you were unhealthy, because you didn't eat right and you didn't exercise, and that can be the cause of some diabetes, but with type 1 there's nothing you did," said Beard.
The nurses explained that type 1 is an autoimmune disease that can be triggered by a variety of things, for Beard, it was triggered by pregnancy. 
Beard said type 2 can be cause by lack of diet and exercise but it can be caused by other things as well.
"No matter how good I eat, no matter how thin I am, I will never lose this disease," she added.
For more information, register to attend or if you'd like to help Sweet Talk, contact Minyard at Nminyard@mesquiteisd.org, or Rainwater at LRainwater@mesquiteisd.org, or Beard at JBeard@Mesquiteisd.org, or visit communityedclasses.org.