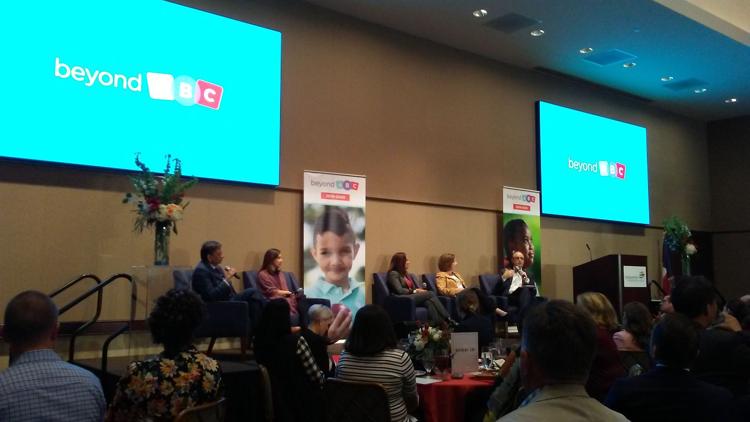 Children's Health recently released the 16th edition of Beyond ABC: Assessing the Well-Being of Children in North Texas, a comprehensive report on the quality of life for children in the area.
The report examines four key areas that impact children in Dallas, Collin, Cooke, Denton, Fannin and Grayson counties, highlighting key trends and areas of improvement in each: pediatric health, economic security, safety and education.
"After reading this year's report, one realization was stunningly clear to me – we must radically change how we support the behavioral health of our children," said Chris Durovich, president and CEO of Children's Health. "Caring for our community's youth is a privilege we take seriously, and it has emboldened us to disavow the notion that any problem is too big, too complicated or too widespread. While we appreciate that transformational change will not happen overnight, we are confident that through a sustained effort by many, we can achieve an integrated behavioral health care system that serves every North Texas child."
This year's symposium, held on Nov. 18, focused on the mental and behavioral health of children.
A panel of experts in the field of mental health include Vanita Halliburton, Co-founder and executive chairman of Grant Halliburton Foundation; Marcellina Melvin, director of Program Implementation for Child and Family Policy, The Meadows Institute for Mental Health Policy; Dr. Madhukar Trivedi, professor, chief of the Division of Mood Disorders, and director form the Comprehensive Center for Depression in the Department of Psychiatry at UT Southwestern Medical Center; and Jessica Trudeau, executive director of the Momentous Institute.
Prior to the panel discussion, K104-FM radio personality Jade "Lady Jade" Burrowes showed attendees a video of a discussion she had with teens about the issues they're dealing with.
Burrowes' "Project 16" is a nonprofit that equips and inspires children ages 10-16 to realize the broad spectrum of educational paths and career options available to them.
Halliburton, who lost her son to suicide at the age of 19, noted that the teens in Burrowes' video were eager to talk about their problems and pain, and found relief in being able to share their stories, which she stated meant they didn't feel free to do this in other areas of their lives.
"We are seeing increasing stress, anxiety, depression and suicidal ideation," she said.
"What we know is that 20 percent of children in our community are experiencing two or more adverse childhood experiences," Trudeau said. "For children who are experiencing multiple adverse childhood experiences that can overwhelm their system, and then the impact goes beyond mental health issues into their physical health and their ability to be successful in school."
According to the report, an estimated 130,226 North Texas children suffer from an emotional disturbance or addictive disorder, and Dallas County saw adolescent suicides increase 27 percent in 2016.
Trivedi said mental health shouldn't be segregate for adults and teens as about 60 percent of people who have a mental health issue will see it manifest in their teens.
"It's very much an illness of the teens — it just gets ignored," he said. "We wait for someone to get into trouble, have a crisis, have a major problem, and then say maybe they have a mental health issue. We do not do this for any other medical condition … especially for things that are very common. We don't wait for someone to develop a stroke before we say, 'Oh, maybe they have hypertension.'"
Trivedi noted that there's a stigma associated with mental health, a fear that talking about it could lead to putting thoughts into their minds.
"We have to start with getting rid of the fear that if we say something, ask something, show an interest in something about their mental health that they will become damaged; in fact, the opposite happens," he said.
"We do hearing checks and vision checks in schools because we have recognized that if somebody cannot see or hear they're not going to be educated," he added. "If somebody has anxiety or depression and we don't recognize it, they are not going to get fully educated."
According to the report, in 2017, 37 percent of North Texas high school graduates were college-ready, down from 42 percent in 2016. Fewer than half of North Texas third-graders can read at their grade level.
"When talking about stigma, 76 percent of all Texans have a loved one or a friend who they care about that suffers from some type of mental health issue," Melvin said.
Trivedi said there are treatments available that don't rely solely on medication, but screening and early recognition yields better results.
Trudeau touched on the greater social and emotional health of children.
"We know that social and emotional health is the variable that's going to allow them to overcome challenging circumstances in reach their full potential," she said. "Systemically, we need to understand and identify solutions obviously, for access to care in school and medicine, but we also have an opportunity to look at social determinants of health and address those."
"Studies indicated that children who are living in poverty have twice the risk of experiencing multiple ACEs (adverse childhood experiences)," she continued. "It is a mental health issue, but it's also an issue with social determinants of health and how we're engaging in primary prevention in order to decrease inequities across different communities." 
According to the report, 14.3 percent of Dallas County children have no health insurance coverage, higher than the statewide rate of 11 percent; and 115,676 Texas students were homeless during the 2016-2017 school year, and LGBTQ youth are twice as likely to be homeless as their peers.
More than 450,000 North Texas children qualify for free or reduced-price lunch.
Trudeau said as a community, they need to look beyond the nonprofits and work with corporate industries, faith communities and school districts to come up with a collective model that aims for longitudinal shifts. 
The full report can found at childrens.com/beyondabc.