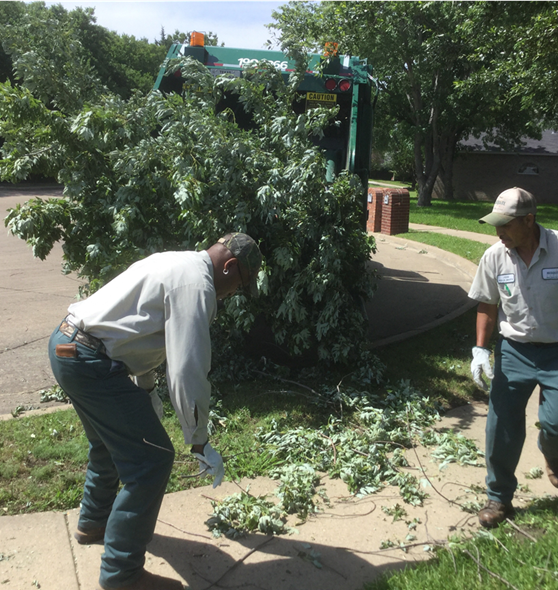 On June 9, at about 1:30 p.m., the Dallas area was hit with a fast moving storm with high winds and heavy rains, which also passed through the city of Mesquite. Winds were estimated to have been around 70 mph in some areas. Those hit the hardest that lost power for extended periods of time were mostly in north Dallas and neighboring cities to the east, including Mesquite.
City staff said the entire city was impacted with the primary issues being tree damage, power lines down and minor building damage. 
ONCOR reported as many as 21,000 customers without power on Sunday following the storm. Many traffic signals were without power for most of Sunday with a few signals requiring repairs by the city. According to the city, on Monday all signals were returned to service and about 5,000 ONCOR customers were without power. 
City employees from Streets, Solid Waste and Parks and Recreation began removing debris Sunday evening, focusing first on hazards from roadways and other public areas, and began debris removal from residential areas on Monday.
"It is expected that removal efforts will take up to three weeks due to the large impact the storm area had on the entire community," according to city staff. "A large number of trees and limbs are down in parks. These trees will be the lowest priority for the city's response and could take up to four weeks to remove."
Reported building damages include The Lane Apartments on Towne Crossing Boulevard and Metzger Awards on Main Street. City facilities that were damaged include Goodbar Recreation Center, Valley Creek Park Baseball Complex and Mesquite Metro Airport. 
Residents are encouraged to contact Public Works dispatch 972-216-6278 if they have any questions.
To aid the solid waste crews in debris removal and the large pickup of brush collection, residents are asked to make the area accessible by not parking vehicles nearby or having other obstructions that may impact the city's service.