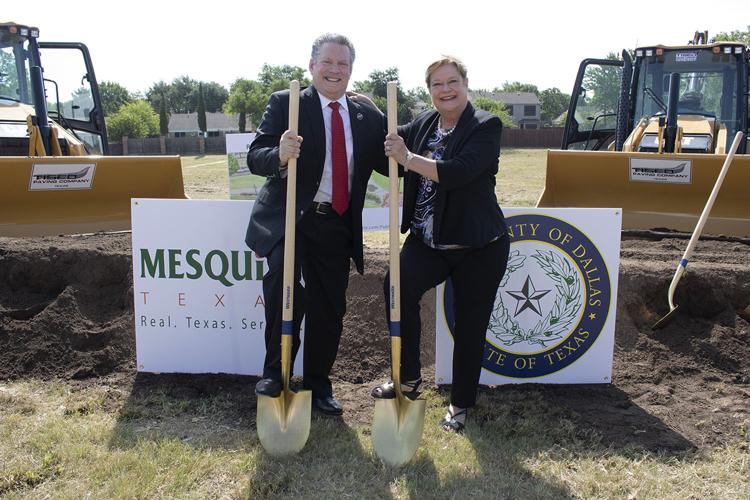 On July 31 Mesquite and Dallas County officials broke ground on a $12.9 million joint project to reconstruct Town East Boulevard from U.S. Highway 80 to Skyline Drive. Dallas County donated $4.4 million toward the project.
"When I was elected mayor four years ago, I said that we would be getting back to the basics. Those basics include improving our roads and streets in Mesquite," said Mayor Stan Pickett. "Today, we have road reconstruction and rehabilitation projects happening across our city. This includes the $125 million we have dedicated to improving our neighborhoods' streets. And this morning, we celebrate the start of yet another endeavor to improve transportation in Mesquite."
This project will reconstruct the existing six-lane roadway section from Forney Road to U.S. 80 and lane reductions from six lanes to four lanes from Skyline Drive to Forney Road.
According to city staff, the lane reductions will move traffic away from residential areas while still maintaining roadway capacity for the industrial businesses. Improvements include replacing aging water and sanitary sewer as well as upgrading the drainage infrastructure through the corridor. The pavement section for Town East Boulevard will have a thicker concrete pavement section (13 inches) to sustain industrial vehicle use in the area.
Additionally, there will be 6,600 linear feet of pedestrian trail and sidewalk, and the new trail will be 12 feet wide to accommodate walkers, bicyclists and joggers.
Hardscaping amenities have also been integrated into the project, which will feature a screening wall and a walking trail. The trail will connect the community to the Westover Greenbelt and the existing trail system at Military Parkway and Town East, part of Mesquite Heritage Trail. The roadway and pedestrian points will be accented with an array of planting materials to finish off the aesthetics of the project.