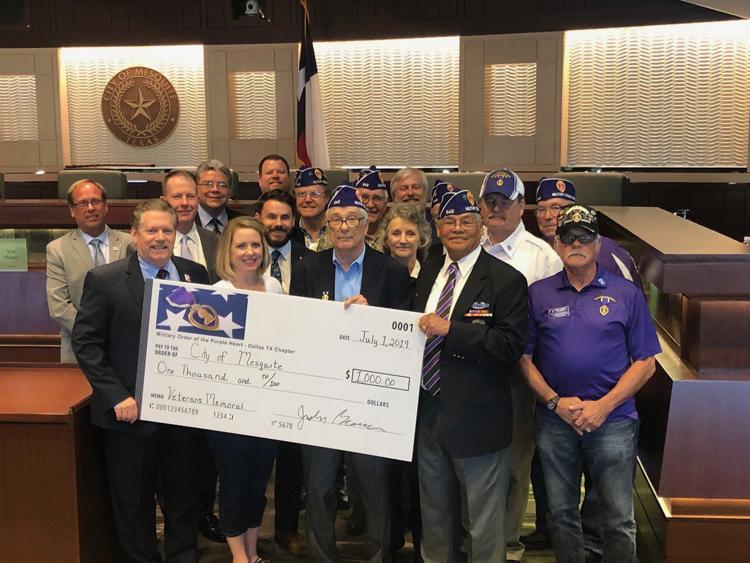 During Monday night's Mesquite City Council meeting The Military Order of the Purple Heart Chapter 542 donated $1,000 toward the Mesquite Veterans Memorial campaign.
The Purple Heart medal is awarded to members of the armed forces of the U.S. who are wounded by an instrument of war in the hands of the enemy and posthumously to the next of kin in the name of those who are killed in action or die of wounds received in action. It is specifically a combat decoration, according to the organization's website.
The Military Order of the Purple Heart was formed in 1932 for the protection and mutual interest of all who have received the decoration. Composed exclusively of Purple Heart recipients, it is the only veterans service organization comprised strictly of "combat" veterans, the site states.
"On behalf of the Heroes of Mesquite, we would like to thank the Purple Heart Chapter 542 for their donation. We would also like to thank you specifically because we recognize that each of you have made a much larger donation than merely money," said Randy Lawson, Mesquite Veterans Memorial Committee, who was not able to attend. "You willingly placed yourself in harm's way when you pledged to uphold and defend the United States of America. This memorial is to honor your sacrifice and all those that have served and those that are still serving our great country. You will not be forgotten. Thank you for your service and specifically your sacrifice."
The Mesquite Veterans Memorial is a community-wide effort to build a new Veterans Memorial in Mesquite. The current veterans memorial, established in 1975, is at the flagpole in Heritage Square located in historic downtown Mesquite. A new campaign, led by the city, is using the progress made by the Heroes of Mesquite citizens group to launch further public awareness and funding to build a new Veterans Memorial.
For more information on the memorial and how to contribute, visit cityofmesquite.com/1949/Mesquite-Veterans-Memorial.