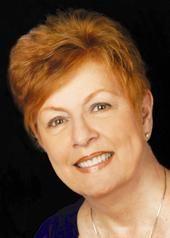 The study of family history is not just about collecting the documents and pictures of your ancestors, but eventually reaches into other areas, such as writing books on your family and other subjects, to colorizing black and white photographs.  Now she is transforming creased, damaged photographs into photos that are more pleasing and interesting to see. She made this transition for her family. I found her journey interesting and thought you would enjoy it in her own words. Below is an example of her skill in turning a black and white family portrait into a softly colored photo. 
"I am 52 years married to Dwaine Maxwell, a man with strong roots to Collin County.  His 3rd great-grandfather, James William Maxwell, Sr., was part of a wagon train that left Washington County, Arkansas and arrived in Murphy, Texas on January 1, 1846.  I inherited a love of genealogy from my husband's late cousin.  I also inherited thousands of photos from her and other family members.  When I retired from my career six years ago, I dedicated the first three months to scanning and cataloging family photos.  At the same time, I immersed myself in family history (both sides of family), and even to the extent of DNA testing for the two of us and other family members.  A year or so ago, I began to be more cognizant of my mortality, so I created a bucket list.  At the top of that list was to write a book on autism. I have now checked that one off the list as I published my first book, Smiley, through Amazon on April 1 of this year.  I have at least two more books on the horizon, but I had one more thing that I really wanted to accomplish.  I wanted to teach myself how to colorize black and white photos.  We purchased some software and I watched YouTube instructional videos.  I also joined two photo restoration and colorization Facebook pages to watch and learn from the work of others.  I first trained myself on restoration, removing the dots and creases that often appear on old photos. Two weeks ago, I colorized my first black and white photo.  I then began filling requests from others and now I have developed a passion for restoration and colorization.  I have begun to work on the thousands of family photos in our collection.  With each one, I grow a little more.  I begin with skin tones (because that's the most difficult).  I then apply eyebrow and eyelash colors, followed by eyes and lips.  Clothing comes next and when I am satisfied with the garment hues, I move to all the other background items.  I've colored buildings, schools, signs, cars, furniture, greenery, dirt, and even the sky.  I never replace the original photo with the colored ones.  Life is not always colorful.  Sometimes it's just black and white…and should stay that way.
The photos below are a black and white photo of the families of James William Maxwell and Hannah (Wood) Maxwell and the colored version that Mary made using her new skill. The top photo has dots and creases, as we are accustomed to finding with old photos. After removing those, she colorized it. Mary admits that it is sometimes better to just leave some black and white photos alone. Nevertheless, she continues to color her black and white photos. The black and white ones are still treasured; she just colorizes an electronic copy of it.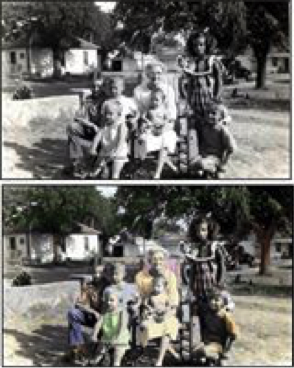 Native American Birth and Death Records, 1885-1940
This site of Native American birth and death records are for various tribes. The original records are NARA Series M595, which includes some census records. Access the site at www.familysearch.org/search/collection/2765178.
Texas, Church Records, 1845-1957
Although most of these records are Catholic records, there are some Protestant records. Search it at www.familysearch.org/search/collection/2534484.
Georgia Deaths, 1928-1942
The index and images of Georgia statewide deaths, 1928-1942, are original records arranged chronologically by year and then by certificate numbers. The search is free on FamilySearch on their link at www.familysearch.org/search/collection/1385727.
Are you running out of space to store your printed documents?
Genealogists collect all kinds of printed documents that may not be necessary to keep with important documents. Stop taking up that valuable space in your office or work area and solve the problem by taking a picture of the less important document, or scan of the document. You can store it on a labeled thumb drive. This way you never just toss it, but save it for some time in the future when you might need it. This way it does not clutter up your desk.
Brenda Kellow has a bachelor's degree in history, teaches, and lectures on genealogy. Before retiring to publish her family's histories in 2007, Brenda held certification as a Certified Genealogist and as a Genealogical Instructor. Send reunion announcements, books to review, and genealogy queries to: bbkellow@verizon.net.