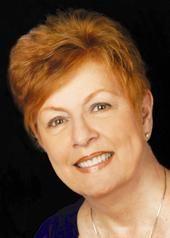 The Decatur/Maxwell/Murphy Cemetery is the final resting place of many of Murphy's earliest settlers, with burials dating from 1853 to1966. It contains approximately three acres of land and over 300 graves—most now unmarked.
You have probably passed the cemetery many times, as you travel Murphy Road. It is difficult to see from the road and directions are necessary to park as close to the cemetery as possible. The cemetery is located behind the Murphy Middle School, 620 N. Murphy Road in Murphy, Texas. To visit the cemetery you should enter Murphy Middle School's parking lot at the light a N. Spring Ridge and head to the very back of the parking lot near the Gazebo. You can park at the back of the parking lot and walk to the path to the right and follow until you see the cemetery on your left. It is just a short walk to the burial ground.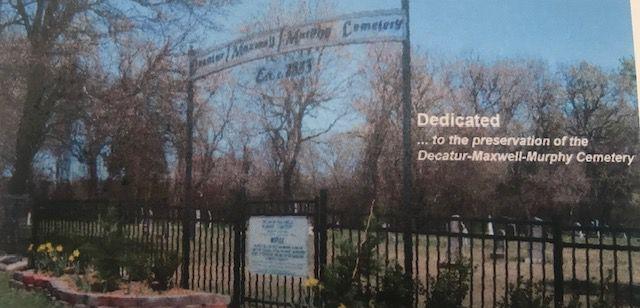 The cemetery has long been under the direction of The Cemetery Association of Murphy, but changes are taking place. According to the letter I just received, effective in March of this year, it will merge with the Murphy Historical Society and dues will be colleted through them. The board members thought this merger is in the best interest of the cemetery and its long-term restoration and preservation goals to join up
The Murphy Historical Society is in extreme need of donations to keep up this beautiful cemetery with Murphy's other historical assets under a larger organization. asset. You can donate as or as little financially or you can volunteer your time. You can also donate specifically to the cemetery by marking your donation DMMCC. Their campaign is to get new and old members to join with the Murphy Historical Society website, www.murphyhistoricalsociety.org, to become a member. The Cemetery Association of Murphy Texas address is 1711 Dublin Road, Plano, Texas 75094. Dues are only $25 for individuals and $40 for a family. Please consider joining so that this historic old cemetery can be maintained in the future.
The meetings are held at 7 p.m. on the last Tuesday of the month at Murphy City Hall Community Room located at 206 N. Murphy Road. At each meeting, there is a speaker and a discussion of projects concerning Murphy's preservation history. Everyone is welcome to attend.
The Decatur/Maxell/Murphy Cemetery Spring Clean Up is Saturday, April 6, 9 a.m.-noon.  Please bring your own tools, preferably with your name on them. Tools suggested are gas powered weed eaters, clippers, work gloves, rakes, wagons or carts, saws, brooms and any other tools you may need. Of course, you will need to dress in outdoor work attire. In case of bad weather, as we often have here in Texas, the event will be rescheduled. If you have any questions, please contact Roxanne Bogdan at 972-998-6780.
They need your help in preserving this very special historic place. If you can't donate money, consider helping with the clean-up.
Preserving your family's history
I have been so busy with things other than my family history that I just noticed my cluttered desk. Worse than that, during some 'downtime' the other day, I realized I still have mental clutter! You know what that is don't you? I'll bet you have it too. I still have many stories told to me by now deceased ancestors that I have not written down. Experts say that it takes only three generations to lose family stories, as well as your ancestor's native language. Unless these are written down, that mental clutter will be lost forever. Don't let that happen to your family. Be proactive! Get busy working to document those stories and memories. Just let it flow from your heart. Just do it!
Free Legacy Family Tree webinars
Did you know that Legacy Family Tree has many webinars that are absolutely free? Check out the site with free webinars listed at https://familytreewebinars.com/archived_webinars_free.php. There are many there that can help you with many different topics including writing, DNA, histories of surnames, using old photos in your written history, European record collections, using your mobile phone for genealogical research and many others. Many of these have closed captioning for ease of hearing and understanding.   
Brenda Kellow has a bachelor's degree in history, teaches, and lectures on genealogy. Before retiring to publish her family's histories in 2007, Brenda held certification as a Certified Genealogist and as a Genealogical Instructor. Send reunion announcements, books to review, and genealogy queries to: bbkellow@verizon.net.