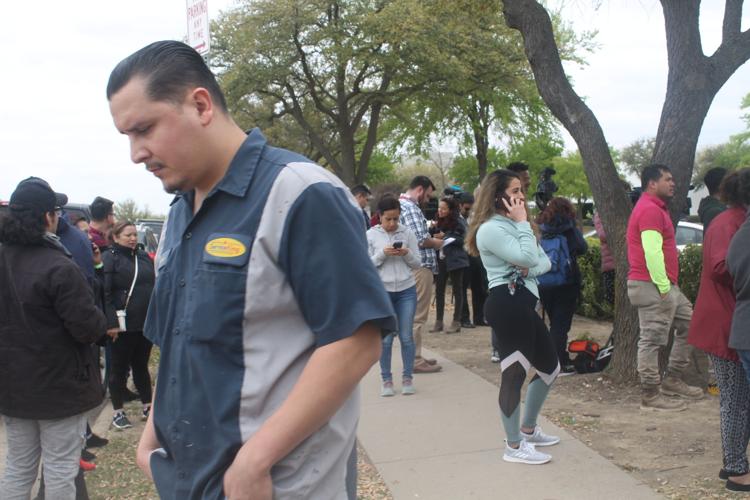 North Texas families are still dealing with the fallout after Homeland Security Investigations (HSI) raided CVE Technology Group in Allen and arrested 280 workers in the the largest illegal worksite arrest in a decade.
In the days since the arrest, McKinney resident Summer Gonzalez of the League of United Latin American Citizens (LULAC) said volunteers and lawyers have been assisting residents on navigating life after the ICE raid.  
Gonzalez said she was optimitistic after the HSI press conference because she believed 50 people would be released on their own recognizance, but about a dozen were initially released while the majority of the 280 arrested remain in custody. 
"While we have volunteers going to the ICE processing center," Gonzalez said, "we have been met with the most broken processing system of bail bonds."
About 25 people were processed through the bond system Tuesday, but several are still awaiting processing. Since the investigation is ongoing, each arrestee is bonding out for a criminal offense, yet Gonzalez said ICE officials have limited the number of people who can be processed on a day-to-day basis. And while some struggle through the bond process, the families involved are still fearful in the days since the raid. 
"They are such a vulnerable community where they don't trust anyone. They don't even want to leave their homes," she said. 
Many of the undocumented people arrested last week were breadwinners in their households, Gonzalez said, so families are now seeking community services to help make their rent payments or buy groceries. LULAC volunteers have reached out to several nonprofits and community services to help offer assistance to the families, but Gonzalez said since many of the people don't have a formal U.S. ID, they don't qualify for many of the social services. On top of that, they're also facing the emotional fallout as children question, "Why did my mom go to jail?" and "What's going to happen next?" Gonzalez said.  
Even in the face of distress, families are finding help in organizations like RAICES – or Refugee and Immigration Center for Education and Legal Services – which are paying bail bonds for families in need. And nonprofits like the Allen Community Outreach (ACO) are open and prepared to serve anyone that needs help, said Marjorie Burr, CEO of ACO. 
People who are undocumented can access emergency resources like food and clothing as well as financial assistance, GED classes, employment and job placement, "anything we can help with," Burr said. 
"They can feel safe coming to us. We don't ask for any type of paperwork related to government-issued documents," she said. 
Residents do need to present some form of ID or details on their residency, "but other than that, they can feel comfortable that this is a place for them to seek assistance. We're here to make sure people are fed and safe and warm and taken care of."