Make-A-Wish North Texas granted an enchanting wish Tuesday morning for a 6-year-old Plano girl fighting leukemia. Reese Lewis is currently in remission after being diagnosed in January 2017 and battling the disease for the past two years.
Reese loves princesses and everything Disney, so her wish was to spend time with her favorite princesses in the most magical place on Earth. Before Reese uncovered her magical wish, Make-A-Wish sent the Lewis family on a scavenger hunt throughout the Gaylord Texan Resort in Irving. At the end of her tour, Reese's fairy godmother Gwen Falls – who doubles as a sourcing manager with Service Experts – escorted her in a horse and carriage to a magic moment.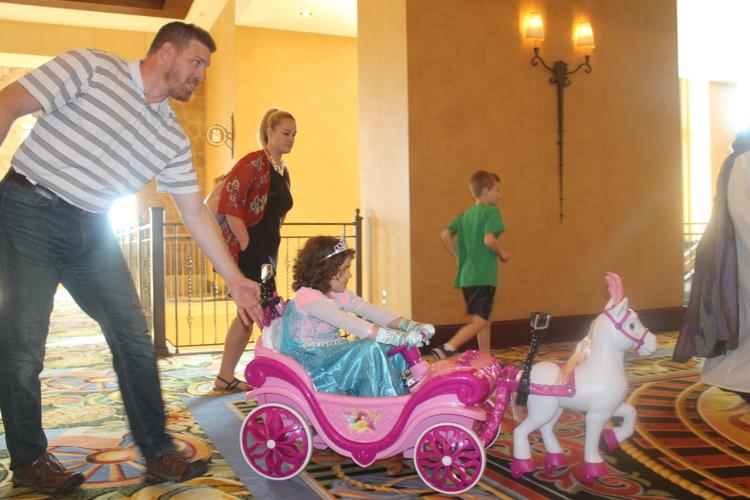 Reese rode into a Gaylord ballroom full of general managers from Plano-based Service Experts – whose corporate partnership helped grant Reese's wish – to see her favorite princesses at Walt Disney World Resort in Orlando.
Ian McKeen, president and CEO of Service Experts, dressed like Prince Charming to officially grant Reese's wish, a feat that took a bit of convincing but was ultimately worth it.
Service Experts became corporate partners of Make-A-Wish a few years ago when the company wanted to bring its 97 locations and 37,000 employees together for a common purpose.
"It all comes down to a moment like this, and it's just pretty amazing," McKeen said. "It really creates a purpose of us, a common vision and what we want to give back to the community."
Reese was very shy Tuesday morning, but she softly said she looked forward to seeing Ariel and Belle whenever she gets to Orlando. Reese's surprise took Service Experts about a month to plan, but Tabatha Gonzalez-Olaechea, vice president of corporate partnerships and events, said each wish is different. North Texas Make-A-Wish grants about 600 wishes a year, and "every time is so unique and so wonderful because every wish is so unique," she said.
"These never get old. They're always exciting and joyful, for the parents to be able to look at their child and see that joy."
There were lots of smiles in that Gaylord ballroom, but the biggest smiles were on the faces of Reese's parents, Morgan and Justin, as they watched their daughter.
"My favorite part is to watch the parents see their child smiling and to see the joy that the wish is actually giving them," Gonzalez-Olaechea said.
"It kind of makes us forget about everything that we've had to go through. Almost," Morgan said. "I think about all the times she has spent in the hospital. I think about all the school that she has missed. I think about months and months and months added together in hospital beds, and I can understand why they do this for these kids."
Reese was the only Lewis who didn't know about the surprise, so her mother said "we really had to keep it on the down-low" to preserve the surprise.
"I think we're just very humbled by all this. Very grateful for all of this," she said. "We've just been really blessed by all of this. This is amazing."