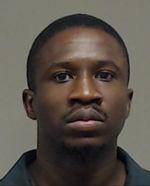 Reported gang member Robert Lee Murray Jr., 35, of Dallas, was sentenced Friday for the 2018 robbery in which he lured a man into a Plano parking lot with the promise to sell him iPhones.
Murray was sentenced to 75 years in prison for aggravated robbery, a first-degree felony.
At the time of the robbery in May 2018, Murray was on parole from a 23-year prison sentence for a 2003 aggravated robbery. He and several accomplices lured the victim to a parking lot by offering to sell him phones, and when the victim arrived, Murray threatened him with a gun and stole various items from the his vehicle.
According to the Collin County District Attorney's Office, Plano Police Detective Jonathan Hay found incriminating text messages and photographs on the cellphones of Murray and his accomplices, as well as Murray's fingerprints on the victim's vehicle.
"A violent gang member and career criminal preyed on an innocent civilian for the last time. The judge and jury showed him the prison door and now he'll pay for his crimes for a long, long time," Collin County District Attorney Greg Willis said in a release.
During the punishment phase of trial, prosecutors introduced evidence of Murray's prior convictions, which also included violent offenses he committed as a juvenile, according to the DA's office.
Assistant District Attorneys Luke Calhoun and Kim Kircher prosecuted the case and were aided by District Attorney Investigator Sarah Putnam and Victim Assistance Coordinators Stacey Taylor and Casey Hendrix.