For nine years, the Ladies of The Legacy Willow Bend have been toiling away over their knitting needles, crochet hooks and looms to provide thousands of handmade items to organizations across Dallas and Plano.
This year, the women outdid themselves, making 3,887 scarves, hats, dolls, blankets and washcloths that were donated to 12 different groups. The recipients were Christ United Presbyterian Church, Cochran Chapel United Methodist Church, Dallas Police Department, Hope's Door, Jewish Family Service, Plano Independent School District, Plano Police Department, Minnie's Food Pantry, National Council of Jewish Women, Street Side Showers, Trinity Basin Preparatory and Vickery Meadow Food Pantry and Clothes Closet.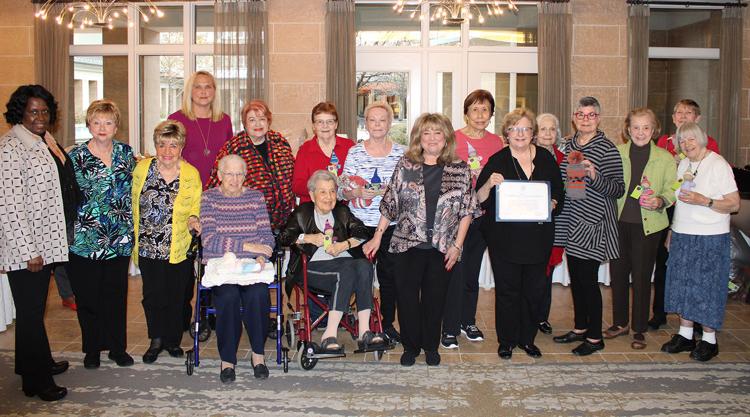 "Our knitters do such a wonderful Mitzvah, which means 'good deed' in Hebrew," said Rivae Campo, volunteer coordinator at the Jewish-sponsored community. "These women knit and crochet every Monday as a group, and work individually in their spare time, to create these precious articles intended to give warmth, joy, and comfort for those that need it most."
The Legacy Willow Bend hosted its yearly distribution event Monday with representatives from each of the 12 beneficiaries and Mayor Pro Tem Rick Smith, who presented a certificate of commendation from the city.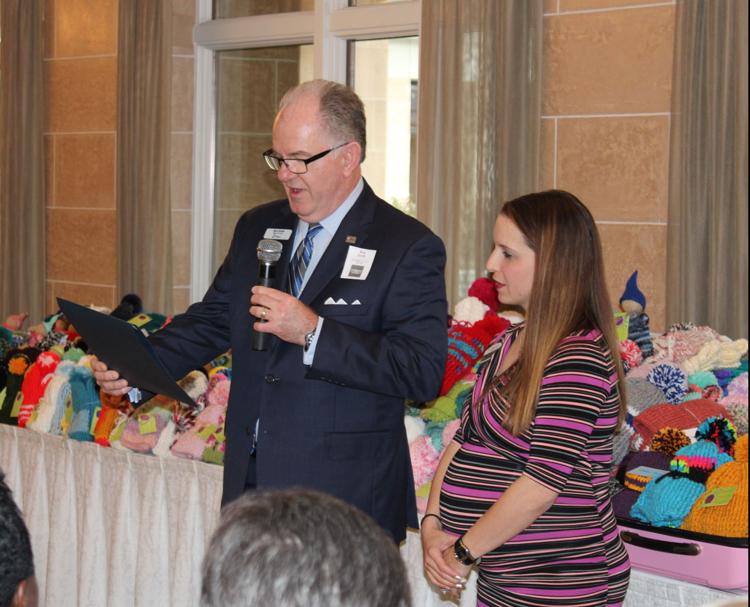 "To see the expressions on people's faces when they see these handmade gifts, I just can't express it to you, but you're making a great difference out here, and on behalf of the city, I appreciate it and I thank you for all that you do," he told them.
The program was brought to The Legacy by volunteer Carol Sobol, who brings in yarn donations through an annual Mahjong tournament at the community. She meets with the knitters on Mondays, where the women pick up their project and take it home to complete. Sobol gets plenty of help from Leena Dominick, a volunteer for just over a year, who said Monday's event shows her the value in all their hard work.
"It doesn't seem like that much for some kids or adults, but when they get something handmade it makes a big difference," Dominick said.
Lifelong knitter Karen Kurzman has been living at The Legacy for over five years and has been participating in the project since she moved in. Despite being part of it for several years, the culmination of all the hard work is "overwhelming," she said.
"The first year that I came to this, I cried," she said. "It's really a wonderful, awesome project."
Rabbi Michael Cohen told Monday's guests and the residents of the Kabbalists of Jewish tradition who conceived that when God created the world and needed to withdraw to make space for the world, he sent a ray of divine light to fill that space.
"The imagery that the Kabbalists have is that what was created was too much," Cohen said. "It was too great and too beautiful, and the vessel shattered and the sparks and the pieces of the vessel that contained them fell."
He said the story goes that some of the sparks went back to heaven but others fell to Earth where they wait for humankind to do works of sacrifice and righteousness to lift them up again.
"These acts by human beings lift the sparks up, and today we have these mountains of sparks," he said, pointing to the colorful mounds of knitted gifts surrounding the room.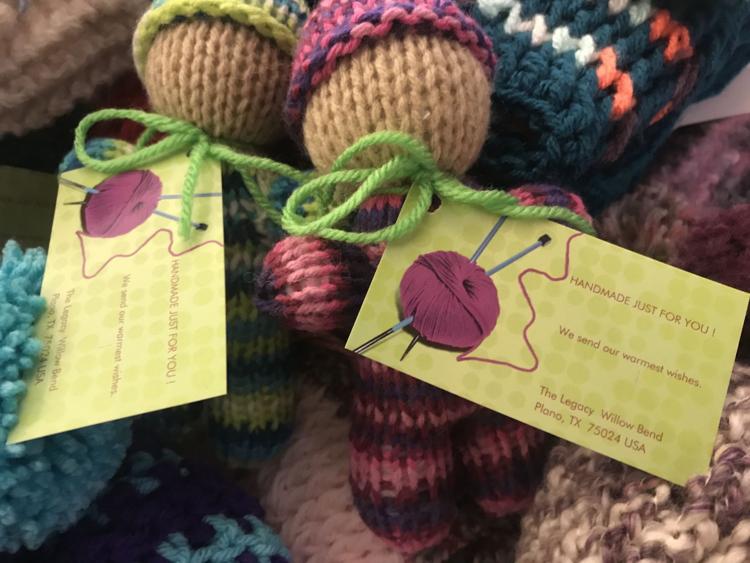 Lance Olinski, founder of Streetside Showers, which provides showers for the homeless in North Texas, received 107 washcloths packaged with personal hygiene items and 30 scarves to give to his clients. Olinski, who launched the service in 2017, has been a recipient since he began.
"You've been with me from the beginning," he said. "What we try to do is restore dignity to people's lives. And it's just a hot shower – it's so simple, it's easy to take for granted, it's such a simple thing, but when you take a hot shower you feel better. You feel like you can get on with the next part of your life."
This year the knitters got a little help from their friends in the form of pom poms for the hats they made. About 800 poms were made by members of Girl Scout Troop 3537 for their Silver Award 50-hour service project, then Bank of America employees volunteered twice a month to finish up the other 800.
Sobol said the women will have their first meeting of 2020 on Jan. 6 and start all over again for the next holiday season. Anyone interested in supporting The Ladies of The Legacy Willow Bend in their work can donate medium worsted weight yarn throughout the year. Donations to the group may be dropped off with the concierge at the front desk at The Legacy Willow Bend, 6101 Ohio Drive in Plano.