Prestonwood Christian Academy (PCA) and Prestonwood Christian Academy North sent more than 800 students and faculty members out across the Metroplex last Thursday to serve during the 17th annual PCA Service Project Day.
"Serving our neighbors right here in our local communities is an opportunity for our students to invest in others and realize that they don't have to go far to make a big impact," said PCA Head of School Dr. Larry Taylor. "While today our seventh through twelfth graders and faculty members were the hands and feet of Christ serving across our North Texas community, this act of service stems from a schoolwide effort, from Seniors to our PreK-3 students at both our Plano and Prosper campuses. Our older students took with them donations of supplies that have been collected by our Lower School students since the beginning of the year through our Manna Monday program. Through PCA's intentional worldview training, students begin to understand at a young age that authentic servant leadership takes place as they put aside their needs and focus on the needs of others."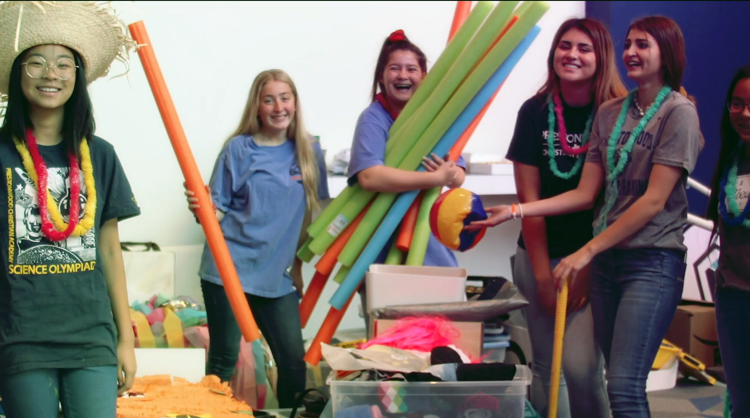 The more than 800 students and faculty members served multiple communities in numerous ways. Service projects included:
Sorting, pairing up and boxing shoes at Buckner International (Center for Humanitarian Aid) in Dallas
Assisting teachers in classrooms and on playground at schools including The King's Academy, Roseland Headstart, Wanda Smith Headstart, St. Philip's School of Dallas, Cockrell Hill Escuelita (all in Dallas), Mendenhall Elementary and St. Timothy Christian Academy (Plano), and PCA North (Prosper)
Serving in Dallas' Brother Bill's Helping Hand Grocery Store (food pantry) and distributing food to the store's neighbors. Helping shoppers in the aisles, bag produce and carry groceries to vehicles.
Cleaning windows, kitchen and dining hall; sorting books and clothes to prepare for Thanksgiving at Union Gospel Mission – Center of Hope Women's and Children's Shelter in Dallas.
Sorting Christmas gifts from donors, helping organize donations for families to shop, creating Christmas ornaments for families to take home at Buckner International (Children and Family Services) in Dallas.
Sorting and stocking shelves at God's Food Pantry in Plano
Cleaning and organizing church offices, decorating for Christmas at Christian Stronghold Baptist Church in Dallas
Visiting and making a craft with residents at CC Young Memorial Home in Dallas
Organizing donations and cleaning at Union Gospel Mission Thrift Shop in Irving
Organizing and sorting donations, restocking shelves at Metrocrest ReStore in Carrollton
Yard work at multiple Senior Citizens Services residences in Carrollton and Farmers Branch
Food Bank and Community Outreach in Celina
Volunteering at H.I.S. BridgeBuilders and Bonton Farms in South Dallas
Sorting and boxing food at North Texas Food Bank in Dallas
Stocking shelves and putting together food boxes at Feed Our Starving Children in Richardson
Afterwards, all students and faculty members will meet at PCA to work together to create Operation Christmas Child boxes for Samaritan's Purse.
Prestonwood students took with them to many of the food pantries, shelters and schools donations that the PCA community has been collecting since the beginning of the school year. In total, students delivered 53 boxes and 8 bags of food, clothes and supplies across the Dallas area.
This year, students were assigned to serve at two other schools in the PCA School System: The King's Academy in South Dallas and St. Timothy Christian Academy (STCA), a school for students with special learning differences. Throughout the year, the PCA School System intentially creates opportunities for all of its students to work together.
"Having a PCA advisory group at STCA on Service Project Day gives our students an opportunity to expand their experiences with peers," said STCA Head of School, Mrs. Lisa McNair. "These experiences are invaluable in the social and academic development of our students."
When the Upper and Middle School students returned to school in the afternoon, each advisory group worked together to create Samaritan's Purse Operation Christmas Child shoeboxes. The students brought supplies for their shoebox donations throughout the week, and in total, created more than 600 boxes which will be sent around the world to brighten children's lives and share the gospel. PCA's Lower School collected 1,003 shoebox donations, far exceeding its goal of 900.
"Serving others is one of the core values at Prestonwood Christian Academy, and in addition to today's day of service, PCA and PCA North Upper School students also participate in "Minimester" during a week in the spring when students go on mission trips locally, nationally or abroad," said PCA Plano Upper School Principal Wendy Morris. "These events have created a culture of servant hearts among our student body."