The Hope Center in Plano is an unassuming office building on the corner of Custer and Plano Parkway. What happens inside, though, is nothing short of awe-inspiring. The center works to equip nonprofits with resources that allow them to expand their reach and multiply their impact by providing reduced rates on office space, free event space, IT services, collaborative groups and plenty more. The center's faithful leader President and CEO Stan Keith announced his retirement after seven years.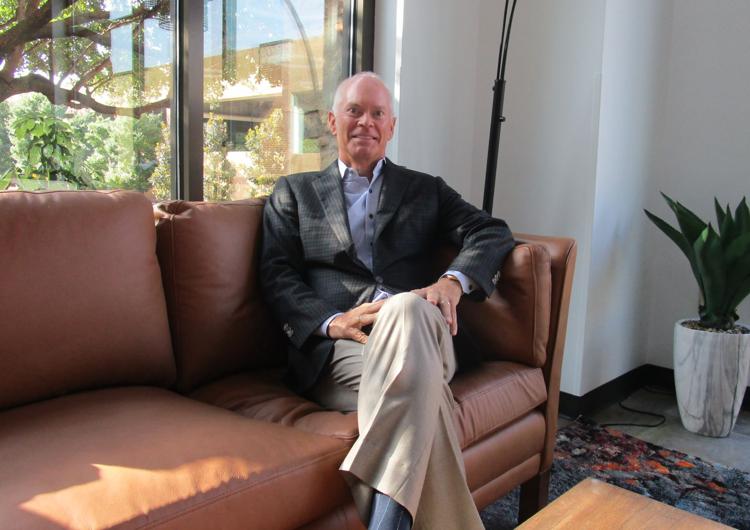 Tell us about your family: spouse, children, grandchildren?
I am so blessed to have a loving family – my wife of 36 years, Betsy, and I are still on our honeymoon - every day gets better. She is very involved with our church and with For The Nations Refugee Outreach. We have four amazing daughters and four fabulous sons-in-law, all of whom love the Lord. Maybe the best thing is that we have four grandchildren (three boys and one girl), and are always praying for more. My daughters work as a teacher, a professional copyright editor and entrepreneur, a homemaker, and a regional director of a foster care agency, and take after their mom in so many ways.
Where did your professional career begin, and how did it lead you to The Hope Center?
I started as a Certified Public Accountant at Arthur Andersen & Co. in Dallas, but I always had an entrepreneurial streak that I inherited from my dad. I joined three other gentlemen as co-founders of a computer superstore concept called Soft Warehouse. We changed the name to CompUSA in 1991 when I was Chief Financial Officer and we sold it to the public in December 1991. For 21 years I split my time 50/50 between my investment business and helping Christian ministries, which is how I became aware of The Hope Center. I joined the Center in November 2012.
Why do you think it's important to have an organization like The Hope Center for local nonprofits?
For two groups – the community and the non-profits. There are many people in the community that just don't know where to go to volunteer or get involved with something they are passionate about. We have multiple ministries that are all sizes and shapes, in many different areas of ministry from humanitarian aid to middle school sports to disabilities to religious liberty to church planting and discipleship, to domestic violence support and counseling, and many more. We are a one stop shop to get people plugged in. The non-profits here all learn from one another, collaborate together and make each other stronger by using complementary skills and tools. They are only a few steps away from others who may be mentors or want to be mentored to be better at what they do.
What were some of your early goals when you began with The Hope Center?
My first goal was to get my arms around the value proposition, and be able to demonstrate it to the non-profits, the community, the donors, and the people that call this home every day. With that, we established strategic plans and priorities, and solidified why The Hope Center is like no other. Finally, we needed to establish a diverse, talented governance Board and a servant leadership team to guide the organization to survive with our values and processes in place for long after we are all gone. Purpose, process, people, then execute with excellence. I think the proof is that The Hope Center has not had a day of vacancy in 10 years and have over 40 ministries on our wait list – we have been true to our vision.
How do you feel about how far The Hope Center has come over the past seven years?
Very pleased and thankful. The Hope Center was born as a toddler in a beautiful facility with wonderful people but without strategic direction and purpose. The last seven years we have become an organization that serves multiple constituencies and drives value towards our mission and vision. In 2018 alone, we had over 40,000 guests from all over the world that attended conferences and events right here in The Hope Center. By being a part of The Hope Center, our nonprofits collectively save over $2 million and share Christ with 6 million more lives each year. We save these non-profits a whole lot of money on their occupancy costs by using proven business methods in a ministry environment and that makes me thankful and so proud to be a part of this.
Is there any one initiative that stands out from that time that you're particularly proud of?
Stability and purpose comes to mind first. In building organizations or building ministries, you have to have a plan that supports where you want to go and put processes and people in place to get there with excellence. We have built that foundation to survive the test of time and every year the non-profit ministries get the dividend, to the glory of God. Right now I am very excited for hopehub Coworking Space – I have dreamed about it for 4 or 5 years but due to lack of space we could not execute previously. That is the future of rapid expansion for this concept.
What's your hope for The Hope Center as you move forward?
My hope is that The Hope Center will keep focused on excellence and servant leadership to multiple constituencies. We are not captive to one church or denomination or non-profit, and we are stronger because of that diversity. My real passion is how we can equip the next generation of Christian leaders to create and expand the next Campus Crusade or East West Ministries or First Liberty Institute. We are all stronger together than we are individually, just as iron sharpens iron to make us all better. The fields are ripe for the harvest, and the world needs more love and compassion. We strengthen the ministries that show the hungry where to find food, where hurting people can find hope, and where people can do something and not just talk about what they can't do. The Hope Center is now and can be a catalyst for this to an even higher level.
What will you miss most about your time there?
The people and their stories of rescue, hope, and life transformation. I have met some of the most amazing people from every corner of the planet, famous speakers, authors and evangelists that I never could have visited with before and everyday servants who namelessly pursue their passion for the lost. But I must say that I will miss my staff the most – we pray together every day at 10 AM, share our challenges and our successes together, and generally love one another with the love of Christ. All this in a demanding, process oriented business environment where we pursue excellence with a purpose. I will miss them daily.
Tell us about hopehub.
As I mentioned, hopehub should be the future for replicating The Hope Center concept to multiple locations across the country. It is a coworking space similar to the other name brands all over the place today, but this one has a purpose – we are all Christian ministries with a vision of telling the word about Christ. This one comes with excellence in facilities - each spot has electronic VariDesk furniture, a modern environment with world class technology, access to event space and networking opportunities with other ministries. hopehub is at the center of developing the next wave of Christian leaders and the cost of the spaces are consistent with The Hope Center concept – deeply discounted space cost, so each non-profit can better use each donated dollar.
Do you have any plans for your retirement?
Retirement technically is not in the Bible, so my "retirement" is from a full time 55 hours per week, full time ministry commitment. Discovering where God wants me next is most important. Rest and quality time with my family and travel with my wife is really first. I want to be available to my daughters, sons in law, and grandchildren in this next phase of my professional life, which I suspect will be a mix of ministry and my investment business again, as well.