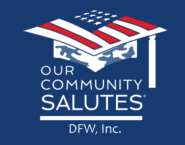 Local high school students making the decision to pursue careers in the U.S. Armed Forces might not experience much fanfare at the time they enlist. However, members of a local military-focused nonprofit are committed to recognizing their choices and providing vital support to new enlistees and their families.
Our Community Salutes (OCS) DFW will honor future soldiers with an in-person ceremony 6:30 p.m.-8 p.m. Tues., May 10, in Richardson (The Heights Church, 201 W. Renner Road). Scott Murray, chairman and CEO of Dallas-based Murray Media, will serve as master of ceremonies.
Unlike students headed into military academies, winning military scholarships or those involved in programs such as ROTC, there aren't local recognition ceremonies for new enlistees in the U.S. Armed Forces. OCS, which began in New Jersey nearly 15 years ago, held its first events in Dallas-Fort Worth last year, honoring more than 200 enlistees and their families.
---
What it means to say 'Thank you'
During local ceremonies, Richardson-based OCS DFW will thank new enlistees by presenting each a certificate and a challenge coin. Challenge coins, given to service members, often feature an emblem or insignia, indicating they are members of a unit or served on a specific tour of duty. A part of military culture for many years, challenge coins are designed to boost morale, identify allegiance and extend appreciation to service members.
The ceremony will feature community leaders, government officials, educators, businessmen and veterans who believe in the organization's mission. Featured guests include:
Darcy Anderson, civilian aide to the Secretary of the Army and vice chairman of Hillwood Management, A Perot Company
Richardson Mayor Paul Voelker
Patrick Law, payments executive, Fiserv
Alexxia Carter, Miss North Texas' Outstanding Teen 2022
Berkner High School Color Guard, Richardson ISD
Retired Army Col. Richard Kaniss of Richardson, chairman of OCS DFW's board of directors, encourages the public to join in the celebration.
There's no charge for students to participate, but registration is required at https://ocsdfwtx.org. The ceremony is for future soldiers residing in Dallas, Richardson, Plano, and other communities on the east side of the Dallas-Fort Worth area. Donations are welcome.
Credit Union of Texas will host a food truck from 5 p.m. to 6:30 p.m.
Another ceremony is 6:30 p.m.-8 p.m. Mon., May 9, at I.M. Terrell Academy for STEM and VPA, 1411 I.M. Terrell Circle South, Fort Worth. Future soldiers residing on the west side of DFW are welcome to participate, but registration is required at https://ocsdfwtx.org. There is no charge.
Dress for both events is casual.
Students from both Dallas Independent School District and Richardson Independent School District will participate. Students from these districts are also being honored:
Fort Worth Independent School District
Plano Independent School District
Garland Independent School District
DeSoto Independent School District
McKinney Independent School District
Allen Independent School District
Carrollton-Farmers Branch Independent School District
Cedar Hill Independent School District
Duncanville Independent School District
Azle Independent School District
Keller Independent School District
Hurst-Euless-Bedford Independent School District
Northwest Independent School District
Arlington Independent School District
Eagle Mountain-Saginaw Independent School District
Crowley Independent School District
Burleson Independent School District
Castleberry Independent School District
Coppell Independent School District