Residents in Plano likely heard the triumphant sound of Plano Senior High's fight song just outside their windows this weekend. Fashioned with a french horn, a saxophone and drums, Band Director Jason Lewis and Associate Directors Mark De Hertogh and Michael Hernandez toured 85 student homes to say goodbye to their students.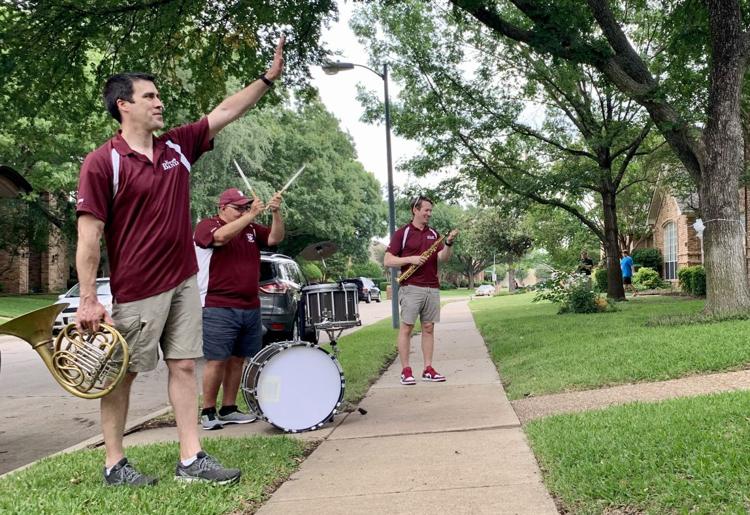 Friday was meant to be the school band's final concert of the year. But since school closures have been in place, students are playing solo. Over three days, the band directors played on sidewalks and streets to show their appreciation for the students' work. 
"We just thought because of the seniors missing out on their final last opportunities of everything that we'd certainly honor them in a way that they will remember," Lewis said. "If they can take something out of this, if this is a bright spot for what they've done with all of the school closures, then we've done our job."
The tour, titled "We are Plano, We are Legend," was brought to life after Hernandez, a percussion coordinator, saw a similar act of solidarity unfold in Austin.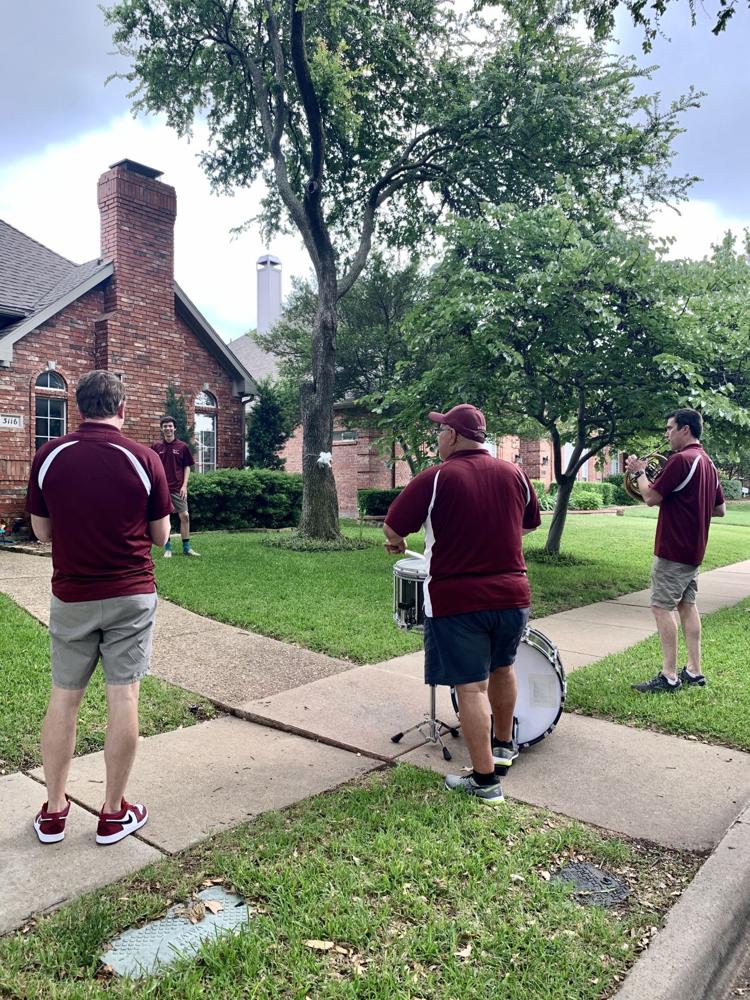 "I think as soon as the state of Texas decided to shut school down for the rest of the school year, the sound you heard from across the state of Texas was the sound of teachers rolling up their sleeves, cracking their knuckles, and deciding 'OK, what are we going to do to make it special for our seniors?'" Hernandez said.
In a Zoom meeting, Hernandez brought up the idea of a home-to-home band tour. His main objective was to provide a final moment of togetherness.
"When we're out here doing this tour, the energy is incredible, certainly from the students," he said. "We're watching the parents and the grandparents coming out of the house."
"It gives them one more opportunity to have a shared experience."
During graduating student Jacob Dixon's concert, neighbor Pat Keeley heard the familiar tune and stepped outside.
"I heard the school song and came out. My son had been senior class president at Plano and he's living out in San Francisco," he said.
Band students at Plano Senior High have practiced their craft for seven years. For the directors, showing up for students meant doing what they loved – playing music for all to hear.
"For me, it's a special way for us to have some closure," De Hertogh said. "It's a big part of the journey for us, having known these kids for so many years, all the way up through senior year. It's a way for us to say goodbye to them."
"It's something we've all just missed a lot over these last couple of months."