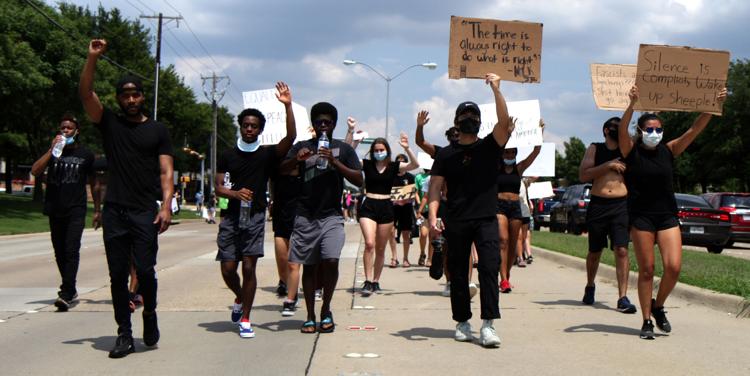 Students, parents, and community members came together Tuesday afternoon to march in protest of police brutality. The sea of mostly high school students held signs that read "I can't breathe," "silence is compliance," and "black lives matter," while walking several blocks near Parker and Preston Roads. 
Anayo, a student who lives in the area, said she was inspired by the number of people who showed up to the march. 
"So many people from different ages, races, demographics are here to support the cause that we're facing- speaking against discrimination, police brutality, and injustice," she said. 
Young faces, many covered by masks, marched with friends or parents. Charlotte and her mother Maxine showed up together to march side by side. 
"I'm very worried by the situation," Maxine said. For Charlotte, showing up for the march was an easy choice. "Personally, I feel like this isn't something we should have to do- black lives should be something normal- we shouldn't have to protest for this," Charlotte said.
Grace Church of Plano got word of the event and set up a water bottle stand outside of its church on the street. Protestors were handed water to fight the 90-degree weather and humidity. Executive Pastor Jesse Prince said the church also opened its doors for anyone struggling with the heat. 
"We're supportive of the people's right to protest. We want everybody peaceful, we want everybody safe," he said.
"Our job is to come alongside our community, not stand against them. Simply for us, we stand with the people of our community."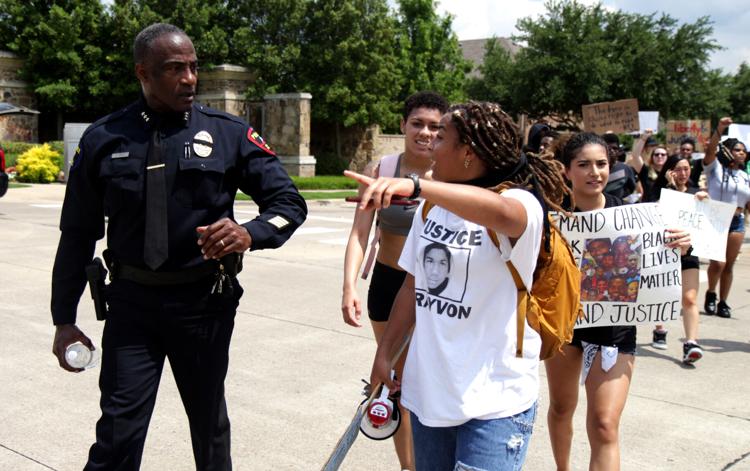 Toward the back of the crowd, Chief of Police Ed Drain marched with the students. When a student experienced a seizure, Drain stopped to help. He said his role in the march was to keep the activists safe. 
"I think it's great they have such awareness and that people thousands of miles away from Minneapolis can care about the death of an African-American man way up in Minnesota," he said.
Drain said the department uses specific procedures to prevent the kind of excessive force that led to George Floyd's death. 
"Every police department can get better, don't get me wrong, but we've got processes in place that limit the chances that we're going to have a case like that happen," Drain said.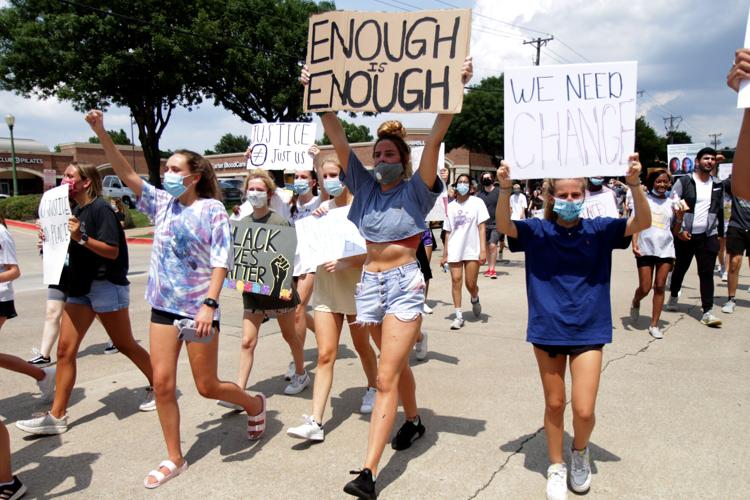 Jen, a social worker in Collin County, has a different perspective on the police force in the area. Having a black family, Jen said she feels "terrified for them." 
"I'm tired of no justice being given," she said. "It's not all police officers, we know that, I know that. I fight for justice and I fight for peace and what's right." 
"None of this is right."
Plano student Jaden said he feels as though the current political climate caused an uptick in violence against people of color.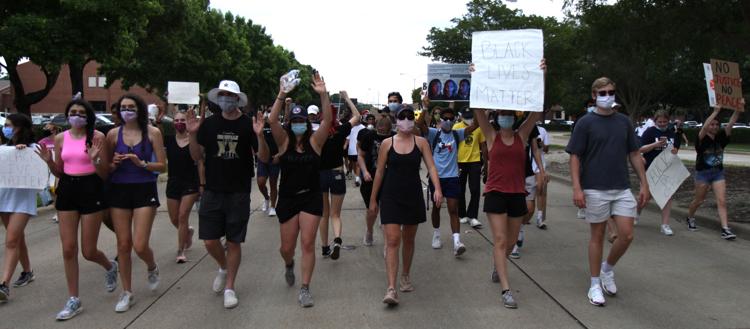 "It makes me worried for the world I'm going to have to grow up in, the world my children are going to grow up in," he said.
Living in Plano for the last five years, Jaden said he has experienced race-driven microaggressions but is observing a change around him. 
"I'm so thankful that even though some of us are just becoming familiar with it, they're growing so much," he said.
"People are taking on the cause."