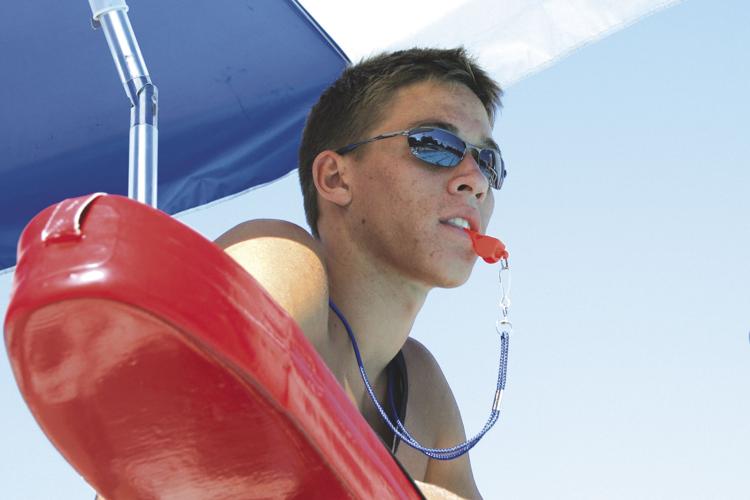 Plano's Jack Carter Pool averages about 1,000 visitors a day at the peak of the summer with up to 25 lifeguards, head guards, safety instructors and training assistants needed to man each pool. Every summer, the city needs more than 200 aquatic staffers to meet the summer demand, but every year, aquatic supervisors like Chris Alban struggles to recruit lifeguards for the summer.
Plano has a network of seven location, 14 bodies of water and one splash pad.
During peak time in the summer, Alban hires about 125 people to staff his three pools – Jack Carter, the Plano Aquatic Center and Harry Rowlinson Natatorium – a distinct difference than during the school year when a few dozen lifeguards are needed.
Supervisors typically start looking for lifeguards in February to make sure future hires have certification and proper training when the summer starts. About 60 percent of the summer staff are college and high school students or local swimmers.
Alondra Vergara, 18, and Hannah Napier, 19, are among the returning lifeguards for their third and fourth summers. It's a lot of responsibility, and it requires regular training and skill, but it sure beats taking tickets at the movies, Napier said.
"I know it sounds cliche," she said. "It's rewarding to be able to know that you're helping people. You're the last defense against someone jumping in and not knowing how to swim. And you're helping people out and saving people's lives."
But even with the advanced notice, it's always a struggle to find lifeguards when summer begins. 
"There's always going to be difficulties, just because the sheer numbers that we need. I wouldn't say it's terribly hard, but it has gotten progressively harder over the years," Alban said, mainly because there is more required training, certification and skills for lifeguard than the average summer job. 
"The training that you have to go through to make sure that you have your CPR, your oxygen administration, your lifeguarding skills, your waterpark skills – there's a whole bunch that we require and there's a whole bunch of training that we do weekly to cover our safe codes," Alban said.
And many teens can make the same money somewhere else, without all the extra requirements. Even with the challenges, Alban said they've never had to close a pool because of lack of staffing or lack of proper safety coverage. But that's always a concern there won't be enough this summer. Several aquatic positions are still open at Tom Muehlenbeck, Carpenter and Oak Point Recreation Centers, Jack Carter Pool and the Plano Aquatic Center, so residents can apply online at careers.plano.gov.