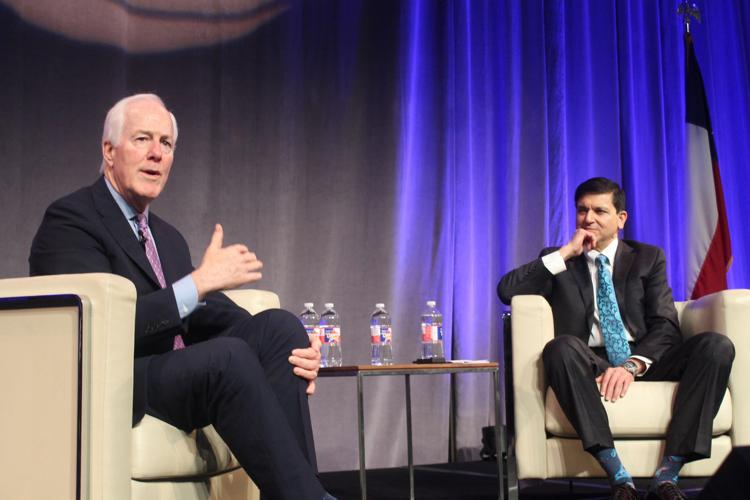 Senator John Cornyn was the featured speaker at the 2019 State of the Business luncheon, hosted by the Collin County Business Alliance (CCBA). Chairman Sanjiv Yajnik moderated the fireside chat with Cornyn as they discussed federal initiatives related to infrastructure, water, immigration and many other topics. 
The luncheon  was held Friday, the day after the 50th anniversary of D-Day, when American British and Canadian troops famously stormed the beaches of Normandy, bringing an end to World War II and Nazi Germany control. Cornyn, a longtime advocate for veteran services and national security, encouraged the audience never to forget the history of D-Day.
"We really need to remember these sacrifices and this service for a cause greater than self or I fear we will take it for granted," he said. 
Regarding roads and infrastructure, Cornyn was hopeful about a new highway bill coming up in the next six weeks. On average, 1,000 people move to Texas every day, which puts added pressure on the state's healthcare system, educational system and roads. With Collin County being the fastest growing county in the state, traffic continues to be an ongoing discussion with multiple outcomes. Cornyn said the latest highway bill would allow Texas to get a larger piece of the federal highway trust fund, in order to fund much-needed highway construction projects. 
Since it's a bipartisan issue, he said, "I'm reasonably confident that despite all the polarization and the noise coming from Washington, that this is one of those things that we can and certainly should do."
He also discussed the "flood of humanity" coming in from the southern border and the importance of national security and rebuilding the country's immigration system. A group of Mexican delegates are negotiating with the White House on immigration, he said, so hopefully both countries can reach a consensus, "but obviously national security and our sovereignty comes first," he said. 
"We're blessed by people who have come here with the American dream in mind, who are willing to work hard, contribute to their communities and help create opportunities for other people."
Alongside trade and tariffs, Cornyn also discussed how to make out-of-pocket prescriptions more affordable, new education initiatives with a focus on science, technology, engineering and mathematics (STEM), as well as new bills to beef up disaster relief following Hurricane Harvey. 
After Cornyn's remarks, Ross Ramsey, executive director and co-founder of the Texas Tribune, gave an update on the State Legislature and all the work accomplished this session. Ramsey described the latest session as boring, which is great for residents, bad for reporters, he said. 
Going into the 2018 session, the focus was a "nose to the grindstone," productive session that produced results. School finance and property taxes were the top priorities, as well as gun control, school safey and human trafficking. A total of 7,200 bills were filed this session, and about 18 percent passed. The school finance bill has several iterations, but the crux of the bill focused on the state providing more funding to education, teacher pay increases and providing relief to district's recapture pressures. 
Rep. Matt Shaheen was in attendance after recently returning to Plano at the close of session. He was proud of the work that went into property tax reform and human trafficking legislation, but he was especially proud of the school finance bill. 
"It was a great session. The Legislature's been trying to tackle those issues for decades – literally decades – especially Robin Hood," Shaheen said. "And with some new leadership in the House, people are really going to feel those differences."