Bikes are all over downtown Plano. They're brightly colored – lime green or yellow – and they're lining sidewalks and streets. Through an app and scan, residents can rent bikes for $1 an hour to get from point A to point B. Bike sharing, this new wave of transportation, has already expanded to North Texas communities like Dallas, Richardson, Carrollton and beyond. And it's finally reached  Plano.
For the past year, residents have expressed concern with the city's sluggish transportation. As traffic jams last longer and longer, residents are considering alternative forms of transportation to get where they need to go.
According to a November 2016 Legacy mobility study, 41 percent of Plano residents are curious about other travel options aside from solo travel; 46 percent would commute using alternative transit and 40 percent wouldn't mind traveling using alternative transit. Companies like OFO, VBikes and LimeBikes have recently launched pilot programs in Plano to gauge the demand among residents.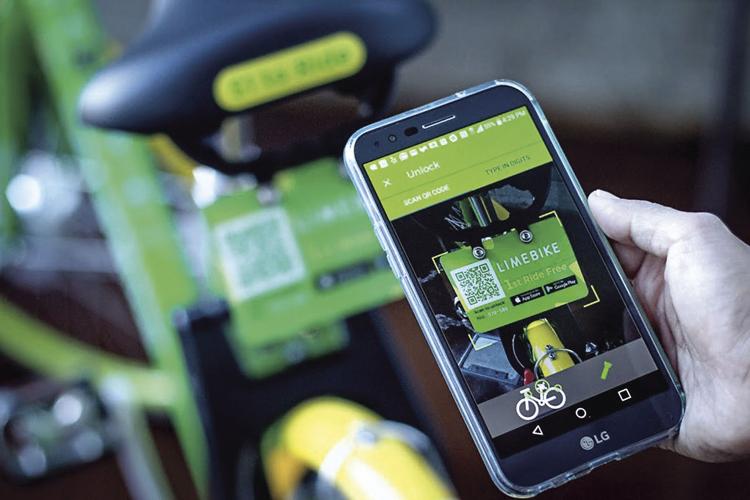 Anthony Fleo, general manager of LimeBike, said his bike share strategy was "to place bikes where there is demand." About six weeks ago, LimeBike piloted its dockless bikes near Plano's downtown DART station. The smart bikes are open to all users. Residents need only download the app, scan for a bike near them, unlock the bike and ride it for as long as they need. Once they've reached their destination, residents can park, end their rental and leave it for the next rider. Fleo said engagement was slow at first, but LimeBike has since seen an uptick in users.
The majority of the bikes are staged at the downtown DART station. Most residents rent the bikes when they depart the DART, they're heading to the DART or riding around the downtown area.
"Having access to more reliable, affordable transportation options can only be beneficial for people in Texas, especially with how spread out it is," said Mary Caroline Pruitt, marketing and communications for LimeBike. "We wanted to bring and give people in Plano the same opportunity."
Many of the smart-bike companies were developed to help address, "the first and last mile" – or transportation deserts where gaps exist between mobility options.
"Sometimes people will want to take advantage of DART, but their houses or workplaces aren't located in spots near a bus station or DART. Because our bikes are mobile, people can really pick them up and use them to get to and from these transits," Pruitt said.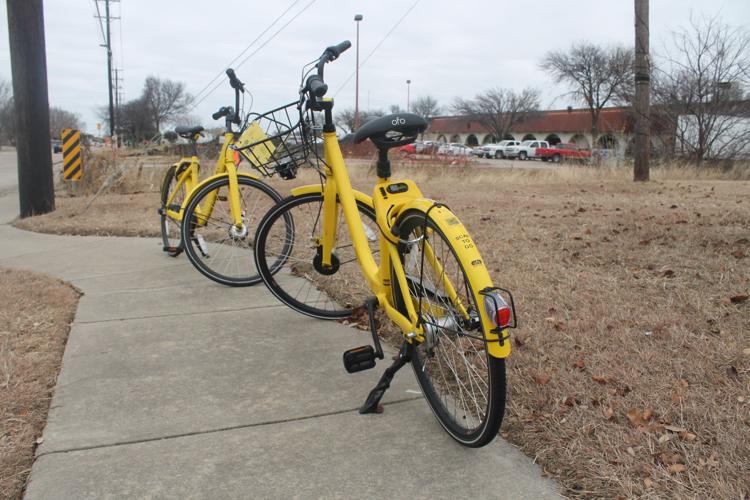 With large corporate campuses and walkable developments coming to the area, more smart bikes are expected to pop up around the city. On Tuesday, VBikes installed three smart bike docks at the Campus at Legacy near Toyota Headquarters, Liberty Mutual and The Shops at Legacy as the first bike-share expansion outside of east Plano.
Karl Haas, business development manager of VBikes, said he wanted to provide biking transportation where they're most wanted.
"The way I see it, I want to put bikes where they're needed, not every corner like most companies do," he said.
Ideally, he said, employees can ride VBikes bikes down to the Shops at Legacy for lunch, get some food and be back in time for work instead of spending the lunch hour roaming for a free parking space.
Each bike-share option operates entire through a phone app. But, since each bike transaction is entirely digital, hesitant residents are concerned about private information being hacked or stolen from these bikes, either through a QR code or Bluetooth. These are realities Haas said he's aware of, and VBikes is addressing it.
"Fortunately, we haven't had that issue. Can somebody do it? They can do anything," Haas said. "It could be hacked, but we try to update our software each month, so it's always something new, and we try to stay ahead of the curve on that so people's information is not hacked."
Haas said he expects bike-share engagement to increase when temperatures do. And if traffic continues, these options will continue to expand on alternative modes of transportation for residents on the go.