ALLEN — For the first quarter-and-a-half, the Plano West football team had as much success imposing its grinding tempo on state-ranked Allen as it could have hoped for.
In a matter of minutes, the Eagles rendered it all for naught.
After scoring just six points through the first 20 minutes of game time in Friday's Class 6A Division I bi-district playoff bout, Allen closed the first half strong with 14 points in just 2:04 to wrest any remnants of momentum away from West.
The Eagles (9-0) didn't let up in the second half, cruising to a 34-13 victory at their home stadium to open the postseason on a familiar note.
"You've got to give Plano West credit for executing their game plan and eating up all that time early on," said Terry Gambill, Allen head coach. "The thing you've got to do is what we did: You can't panic, you just have to go execute."
It meant weathering a slower start than Allen's offense is accustomed to. Averaging 49.8 points per game leading up to Friday's contest, the Eagles managed just a 10-yard touchdown run by senior Jordan Johnson and sat tied 6-6 heading into the waning moments of the first half.
With the West defense neutralizing Allen's potent downfield passing game, the Eagles opted for a series of screens and quick throws before a defensive bust by the Wolves brought the offense to life. Facing first-and-10 from its 46-yard line, Allen senior General Booty caught West out of position and found senior Carson McKay all alone down the middle of the field for a short pass the receiver took the distance for a 54-yard touchdown and a 13-6 lead with 2:53 left in the half.
"It was just a coverage bust there and an alignment issue that they saw, which really stretched us," said Tyler Soukup, West head coach. "It was an executional error and you have to avoid those. There were some times where Allen just made plays, but leaving someone open like that is a tough one to swallow."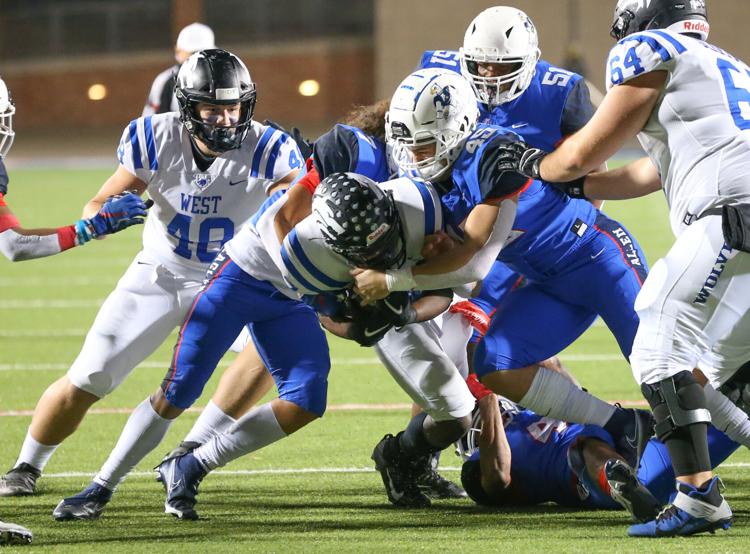 A miscue the Wolves could ill afford given their margin for error, things snowballed for West one series later courtesy of the Eagles' defense. Pressure up front by sophomore Diego Avila forced an errant throw by senior quarterback Greg Draughn and resulted in an interception for Allen sophomore Caison Smith.
Four plays later, Booty found senior Bryson Green down the left seam for an acrobatic, 21-yard touchdown and a 20-6 lead with 49 seconds remaining that the Eagles carried into halftime.
"Playing a team like that, it starts up front with your defensive line. They have to be doing a great job to allow your linebackers to flow," Gambill said. "I thought our defensive line did a great job and the backers, plus they weren't giving up big plays. They made West have to earn everything."
Allen's late-quarter surge unraveled an encouraging start for the West offense. The Wolves ran the ball on their first 10 plays from scrimmage, riding the legs of senior Tabren Yates, who totaled 80 yards on the ground, to some early success moving the chains on the Eagles.
Coupled with some timely runs from sophomores Dermot White and Vance Feuerbacher, the Wolves' first two possessions totaled more than 12 minutes of game time but resulted in field goals for senior kicker Jesse Velez on makes of 27 and 44 yards. 
The Wolves didn't cross midfield for the rest of the half, plagued by lapses when facing third-and-medium or third-and-long and unable to rely on the run game to move the chains.
"Once Tabren got healthy over those last few weeks, he really began running like the Tabren Yates that we've seen all along," Soukup said. "He's so tough and physical but unfortunately rolled his ankle. He just couldn't avoid the injury bug this season, but he really set the tone early on."
The Eagles kept their foot on the gas with two more touchdowns in the third quarter. A 27-yard screen pass to Johnson, who totaled 106 yards in the win, set up a 3-yard touchdown run by Booty, and junior Jaylen Jenkins got in on the action with a 34-yard touchdown run with 4:34 left in the third quarter.
Following 28 unanswered points by the Eagles, West found the end zone on a 12-yard pass from Draughn to senior Tyler Harrell to trim the gap to 34-13. In defeat, White totaled 98 yards of offense and caught a team-high six passes.
Allen, meanwhile, was paced by a seven-catch, 100-yard night for Green, while Booty threw for 183 yards and two scores — completing nine of his final 13 passes in the win. The Eagles forced three turnovers on defense, with freshman Payton Pierce recovering a fumble in the second half and sophomore Malakai Thornton later intercepting the Wolves. 
West, meanwhile, managed just one takeaway after senior Jabrayden King-Woods picked off a deep ball by the Eagles in the third quarter.
The Wolves, competing in the playoffs for the first time since 2014, close out their 2020 season at 6-5 overall.
"We just tried to turn it all into a positive message for our seniors as they exit our program," Soukup said. "You can really turn around anything in your life if you bring good energy to it and execute your plan and stay persistent through the ups and downs."
Allen, still unbeaten, advances to the area round for a meeting with South Grand Prairie, set for 7 p.m. Friday at Globe Life Park in Arlington. The Warriors ousted undefeated Lake Highlands in their bi-district win, 38-14.