East spoils West homecoming, rumbles over Wolves, 51-17
Senior running back Noah Scroggins broke loose for 60 yards on the first drive of the game, and it appeared that the Plano West football team was off and running both figuratively and literally in its Homecoming matchup with rival Plano East.
Three plays later, a sack of junior signal-caller Will Cannon (and the ensuing block of an attempted field goal from senior Jack Swearingen) would set in motion a familiar series of events for the Wolves, who fell to 0-9 in a 51-17 loss.
"You have those big plays, and you expect to go put the ball in the end zone, and we weren't able to," said Scott Smith, West head coach. "That flattened us off a little bit, but, man, I'm really proud of our guys. They fought their tails off tonight."
The victory was a much-needed result for the Panthers, who, since beginning the season 5-0, found themselves on the wrong side of consecutive routs against Allen and Plano Senior and were taken to the brink by McKinney in a double-overtime thriller.
The result was also another step toward the Panthers securing a playoff berth. Hosting Jesuit in next week's 9-6A finale, they'll control their own path to the 6A tournament, as a win over the Rangers will secure a spot in the tournament.
"We've got to get better at some things, and that's what we're going to do," said Joey McCullough, East head coach. "We're going to try to work and get after these Jesuit Rangers and get this win."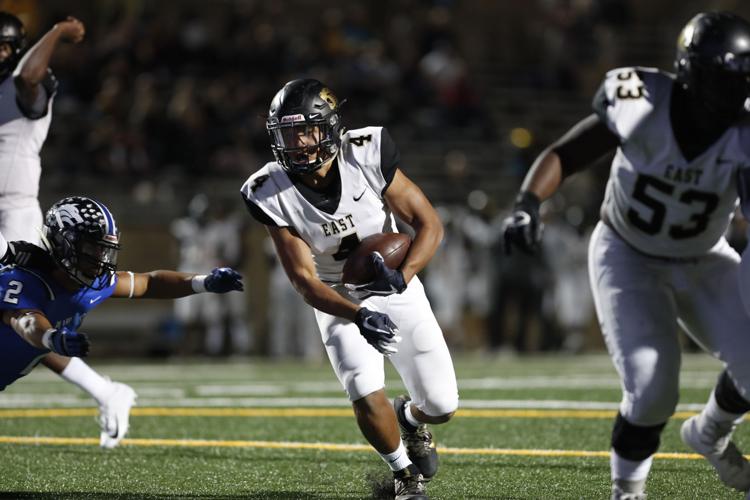 West's effort Friday was highlighted by a late touchdown drive in the first half. After East senior Braylon Henderson coughed it up near midfield and gave the Wolves positive field position, Cannon – who had been just 1-of-9 through the air to that point – completed four consecutive passes.
Cannon's final attempt fell into the hands of junior Cole Carter, who hauled it in for a 21-yard score. The pair would hook up again in the second half for a 43-yard completion.
"We think Cole's had a really good year and progressed each game, especially on the big plays," Smith said. "Will was able to get him the ball tonight. Will kind of got his feet underneath him a little bit. … I'm really excited about the connection those two have."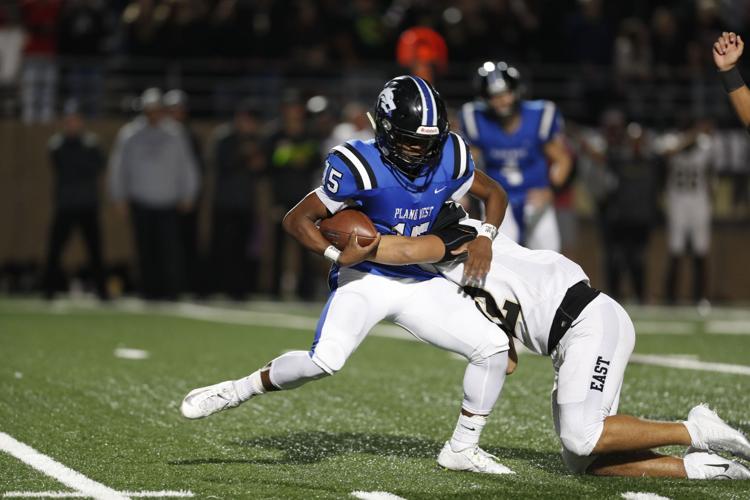 Scroggins was productive for West on the night, but only in early spurts. He added a 59-yard run on the Wolves' second drive of the game to his 60-yard opening salvo, but never reached double digits on a single attempt over the rest of the contest.
In contrast, East senior quarterback Brandon Mallory had the long ball working throughout the 34-point win, with completions of 57 and 26 yards in the second half to back up gains of 54, 41 and 20 yards in the first.
Mallory finished the night 17-of-25 passing with 328 yards and four touchdown passes against a lone interception in a performance complemented by 163 total rushing yards for the Panthers.
"He was ready to go, man. We were locked in and had a great week of practice," McCullough said. "It looked good. I thought our offensive line executed well up front. I think we had them guessing and scrambling. People have to make a decision. When we're more balanced running the ball and throwing it, it opens up some stuff."
Now 4-2 in conference play, the Panthers will kick off their aforementioned win-and-in against Jesuit at 7 p.m. Friday inside Kimbrough Stadium.
The Wolves, on the other hand, will once again "throw caution to the wind" in the face of a Thursday road matchup with district champ Allen and another potential winless season.
"[It's the same attitude] we had for this one.  … [Our guys] had a great week this week, and I would expect nothing less as far as our practice," Smith said. "Like I told them tonight, we've got nothing to lose. Nobody expects us to do anything. … We'll go play our butts off and see what happens."
For continued coverage of the local sports scene, follow @TaylorRaglin on Twitter.