FRISCO — In amassing the longest active winning streak of any team in District 6-6A, the Plano West volleyball team conjured some fifth-set moxie along the way.
Of the Lady Wolves' eight straight wins to close out the regular season, three came in five sets.
West had to channel that resolve once more during Tuesday's bi-district postseason match against Allen, holding off a resilient effort by the Lady Eagles for a 3-2 victory (25-14, 25-21, 23-25, 22-25, 15-10) and a spot in the area round of the Class 6A playoffs.
The Lady Wolves averted disaster, setting a torrid pace from the onset and winning the night's first two sets as a result. Allen showcased its resilience to pick up wins over the next two sets and force the decisive fifth frame.
The Lady Eagles applied further pressure behind three combined aces from seniors Lorna Platt and Leah Reeves for a 6-2 lead to begin the final set. Allen ultimately led 8-6 before West mounted its rally by recording nine of the match's final 11 points.
The Lady Wolves did so in unconventional fashion, recording as many kills as blocks (three) during the fifth set and distancing on a trio of errors committed by Allen to close out the frame. West generated some late production from sophomore middle blocker Kate Mansfield, who came through with team-high marks in both kills (two) and blocks (two) to help West muster a response following an energetic start by Allen.
"It was all about momentum at that point," said Justin Waters, West head coach. "We created some ourselves, we got some good calls from the refs that I think frazzled the other side, but it all comes down to us just playing our game. We were definitely off tonight, but the runs where we were on our game made us look unstoppable at times. We just have to be consistent."
Waters saw plenty of that in the early going. The Lady Wolves were emphatic in authoring a 25-14 first set that saw the trio of seniors Jean Dixon, Kaila Garnett and junior Blaire Bayless combine for 14 kills in an opening frame where West led by as many as 12 points. West added four aces to start the night, peppering a stout Allen defense with a multitude of offense.
"They're in full control of that match. If they play their game, they're going to be tough to beat. When you look at the score and whenever Allen is scoring, I feel like a lot of it was based on our own mistakes," Waters said. "I felt like we controlled the pace of the game and the score. We want to earn our points and force the other team to earn theirs, and we were just giving them too many errors."
Impressive as West looked early on, Allen bounced back and built a 15-9 lead in the second set — leaning on balanced offense and a scrappy defense captained by senior Emily Canaan to fuel the response. The Lady Wolves turned to Bayless, who recorded three straight points to spark an 11-5 run that eventually drew both sides even at 20-20.
West then proceeded to score five of the next six points, getting two more kills from Bayless to complete a 25-21 comeback and a 2-0 set lead. That rally loomed large as the Lady Eagles returned the favor one set later.
"It's tough being down 2-0 to a tough team and a team you just feel like you're not quite sure how to stop," said Stephanie Poole, Allen head coach. "It becomes absolutely just a gut-check and getting a little grittier and finding a way. It's what they've done all season — they've stuck together and found a way. There was so much of that tonight."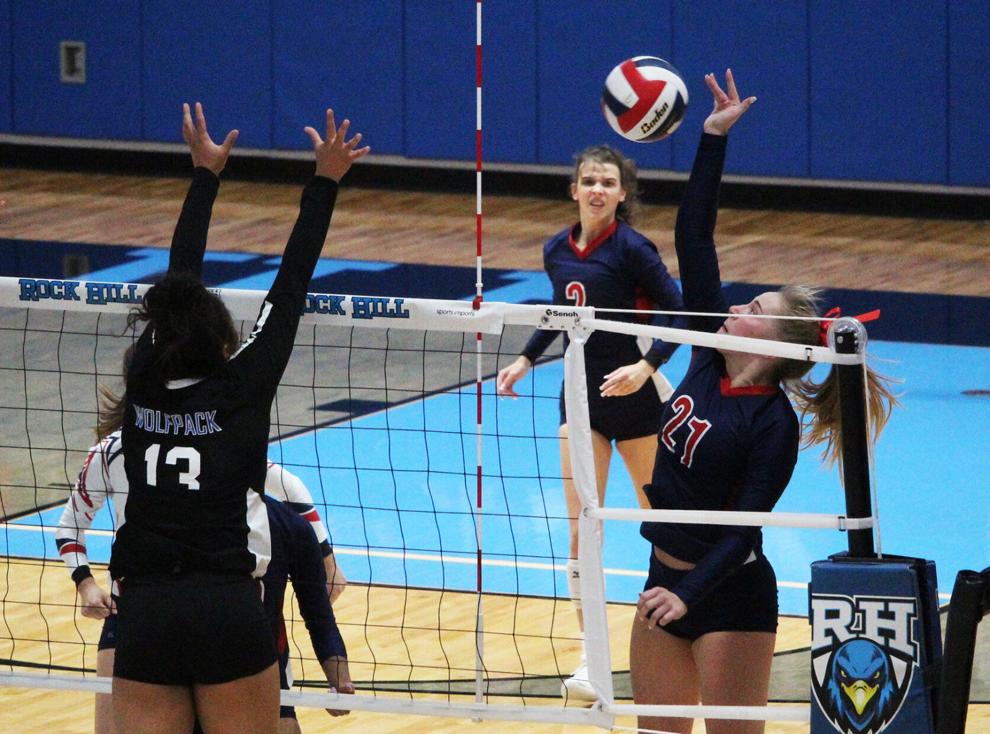 Poole mentioned several players operating outside their normal roles on Tuesday — sophomore Alyssa Boyte was used more in the middle, senior right side hitter Divine Muo shifted to the outside and senior middle blocker Tori Wilson played a bit on the right side — to help Allen gain control. The first-year head coach also lauded the work of senior Emma Janek, who essentially played all the way around on Tuesday.
"For whatever reason, that just had some magic to it for a while and worked well," Poole said. "The trust was there, asking them to try something different. They're great kids who were willing to lay it all out there tonight. I'm proud of them."
The Lady Eagles trailed West by as many as five points at 16-11 in the third set before rallying to overtake the Lady Wolves, 25-23. Following a West service error that knotted the count at 22-22, Allen recorded three of the next four points — benefiting from a Muo block followed by kills from Boyte and Janek to force a fourth set.
The Lady Wolves again led late in the fourth stanza, opening up an 18-14 advantage following a kill by senior Camryn McGough before Allen countered with a 7-1 run, capped by a Janek kill, to suddenly build a 21-19 lead. The Lady Eagles swelled that margin to 24-21 on a kill by Wilson and weathered some brief controversy over an ensuing Mansfield kill that was ruled to not have been tipped by an Allen player, which cut the gap to 24-22. Allen responded with another kill from Janek to knot the match at 2-2 overall.
"I couldn't be more proud of them to force a fifth set, especially down 2-0 and against a tough team like that," Poole said. "The resilience, the guts, the grit, it was all there tonight, and I'm just sorry that we couldn't pull it out because they deserved that."
The loss capped Allen's 2021 campaign at 22-13, its first season under Poole. The Lady Eagles drew 6-6A co-champion West after mustering a third-place finish in 5-6A at 8-4 — its largest district win total since 2017.
Although the Lady Wolves were seeded second from 6-6A, they've played to the level of a No. 1 seed of late. West went unbeaten over the second half of district play, headlined by five-set wins over state-ranked Flower Mound and Marcus, to create a three-way tie for first place in the conference. Tuesday's bi-district win extended the Lady Wolves' streak to nine victories in a row, setting up an area playoff bout with Lake Highlands at a time and place to be determined.
"We're just trying to peak at the right moment. The stuff we've been working on in practice is getting put in place during games," Waters said. "You didn't see much of it tonight, but in that win over Flower Mound or Marcus, it's where you really see what we've been working on and the job they do executing it."