GEORGETOWN — The John Paul II football team's dream season continues.
Just a couple weeks removed from their first-ever playoff win, the Cardinals are now one victory away from a Texas Association of Private and Parochial Schools state championship — authoring another chapter in their hallmark season after pulling away from San Antonio Antonian over the final two quarters for a 31-13 win Saturday at the Georgetown ISD Athletic Complex in the TAPPS Division I state semifinals.
"It's surreal. This feeling is so hard to describe," said George Teague, John Paul head coach. "It's unbelievable, because we didn't know that we'd be here. We knew we'd have a good football team this year, but to get this far, I'm so proud of our coaching staff and kids to fight like this."
It required overcoming as unorthodox a first half as the Cardinals have endured all season, with the two teams combining for four lost fumbles — including two in the red zone — over the first quarter-and-a-half, coupled with very little rhythm for either offense. 
And then, inside the final few minutes of the second quarter, things began to click for John Paul. Junior Grayson James racked up a pair of touchdown passes — one on a screen pass that junior Jerand Bradley housed from 35 yards out and another on a 12-yard toss to junior Shunte Nettles — for a 14-13 halftime lead on an Apache squad that enjoyed a two-touchdown half from quarterback Khalil Warfield.
"I think in the beginning, we were so anxious about being in this game and we weren't necessarily playing our techniques that we needed to play, particularly on defense," Teague said. "We wanted to make the big shots early, but we fixed that and got them back in line and told them to just play JPII football. We had to play our style and play our technique."
And when they did, Antonian was rendered powerless.
John Paul scored the final 24 points of Saturday's ballgame and out-gained the Apaches, 182-10, in the second half. The Cardinals did so by dominating the line of scrimmage, falling back on a run game that churned out big gain after big gain between senior Carson Collins and junior Grant Robinson.
John Paul did so on a variety of toss plays, including three to Collins on a 10-play drive midway through the third quarter for gains of 17, 16 and 4 yards — the lattermost producing a touchdown for a 21-13 lead with 3:21 left in the frame.
"It was a change for us. Typically, we're an inside running team and figured that they would be playing for that," Teague said. "We thought we could hit them on the outside if they were planning on us going inside and it worked out."
Sophomore Jackson Mata added a 21-yard field goal with 3:50 left in the fourth quarter and Nettles punctuated the victory with a 13-yard touchdown run one minute later to send the Cardinals to their first-ever TAPPS state championship game.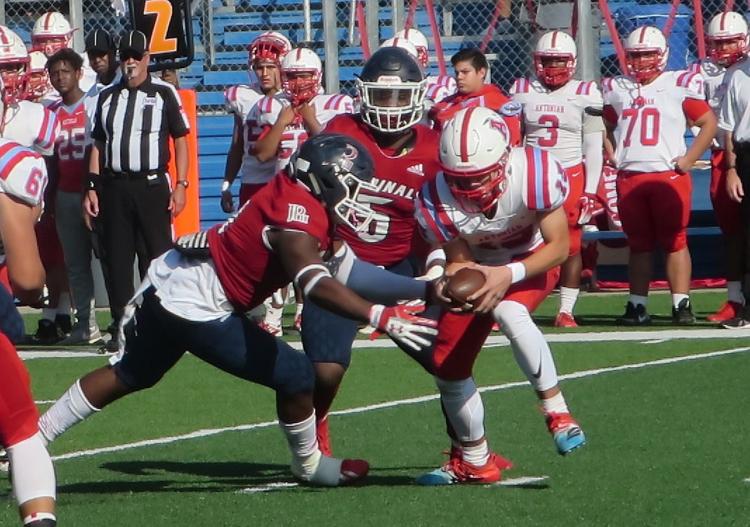 Nettles' coffin-nail score came after an Antonian turnover on downs — one of three forced by the John Paul defense in the second half. Much of that had to do with an aggressive pass rush that amassed six sacks over the Apaches' final four series of the ballgame, with juniors Brandon Tucker, Kyle Taylor, sophomore Cameron Robertson and seniors Dylan Harris and Kevin Harris among those who paraded into the Antonian backfield on Saturday.
"Those two in the middle, Dylan and Kevin Harris, both said that they wanted to put the team on their backs," Teague said. "They really motivated the players and let them know that they could do this. Although they aren't captains by some type of title, they're definitely leaders for us."
James added 217 passing yards on top of his two touchdowns, while junior Myles Parker caught six balls for 102 yards. Senior Donovan Johnson added a 60-yard reception, which came on fourth-and-one late in the second quarter to set up the James-Nettles touchdown to close out the half.
John Paul managed the 18-point victory despite a tough afternoon protecting the football, losing three fumbles – including two at the Antonian 1-yard line – in the win. Teague attributed the early struggles to the nerves of competing in the state semifinals for the first time ever.
Persevering through that type of adversity going forward will be key, he said, as John Paul now sits one win away from an improbable state championship.
"It continues to build our team. We talk about overcoming adversity and moments like today is what we need," Teague said. "That's what will have to happen in the state championship game and when you play against good football teams. You just have to stay the course."
The Cardinals meet the winner of the Parish Episcopal-Houston St. Thomas state semifinal in the TAPPS Div. I state title game, which takes place at noon Friday at Waco Midway.