PLANO — More than one month later, plenty has changed since the first time the Plano West and Lewisville girls soccer teams squared off.
The initial meeting between the Lady Wolves and Lady Farmers on Jan. 26 produced one of the highest scoring games of the District 6-6A schedule as West survived a back-and-forth 3-2 scrap in both sides' conference opener.
Although Monday's rematch was defined by defense, the result remained the same as West racked up a much-needed three points in the district standings after taking a 1-0 decision at Clark East Field.
"I think both teams have grown since that first district game," said Jackie Kerestine, West head coach. "We were both coming off preseason and dealing with the variables of quarantines and injuries, plus sometimes the game of soccer can be a weird one."
The Lady Wolves found the win column on the strength of a first-half goal from senior Lily Hargrove. During the match's 35th minute, Hargrove corralled a pass from junior Morgan Donahue, promptly adjusted her positioning and fired off a shot from 35 yards out. The ball took one hop and snuck just inside the right pipe to elude an outstretched Lewisville goalkeeper.
"I always preach to the girls to shoot when they have a chance," Hargrove said. "That's exactly what Lily did, and I couldn't be more proud of her."
Hargrove's goal nudged the Lady Wolves in front during a back-and-forth first half that saw both defenses stifle any rhythm for the opposing offense. West made several efforts at getting players like Hargrove, senior Brooke Roberts and junior Morganne Eikelbarner open run-outs on goal, but Lewisville's defense matched the Lady Wolves step for step early on.
"They're a high-powered offensive team that just flies out there trying to make things happen, but everyone stepped up in the back for us," said Bridget Hernandez, Lewisville head coach. "Just tracking who they needed to track, stepping in at the perfect time and really breaking up anything they tried to do."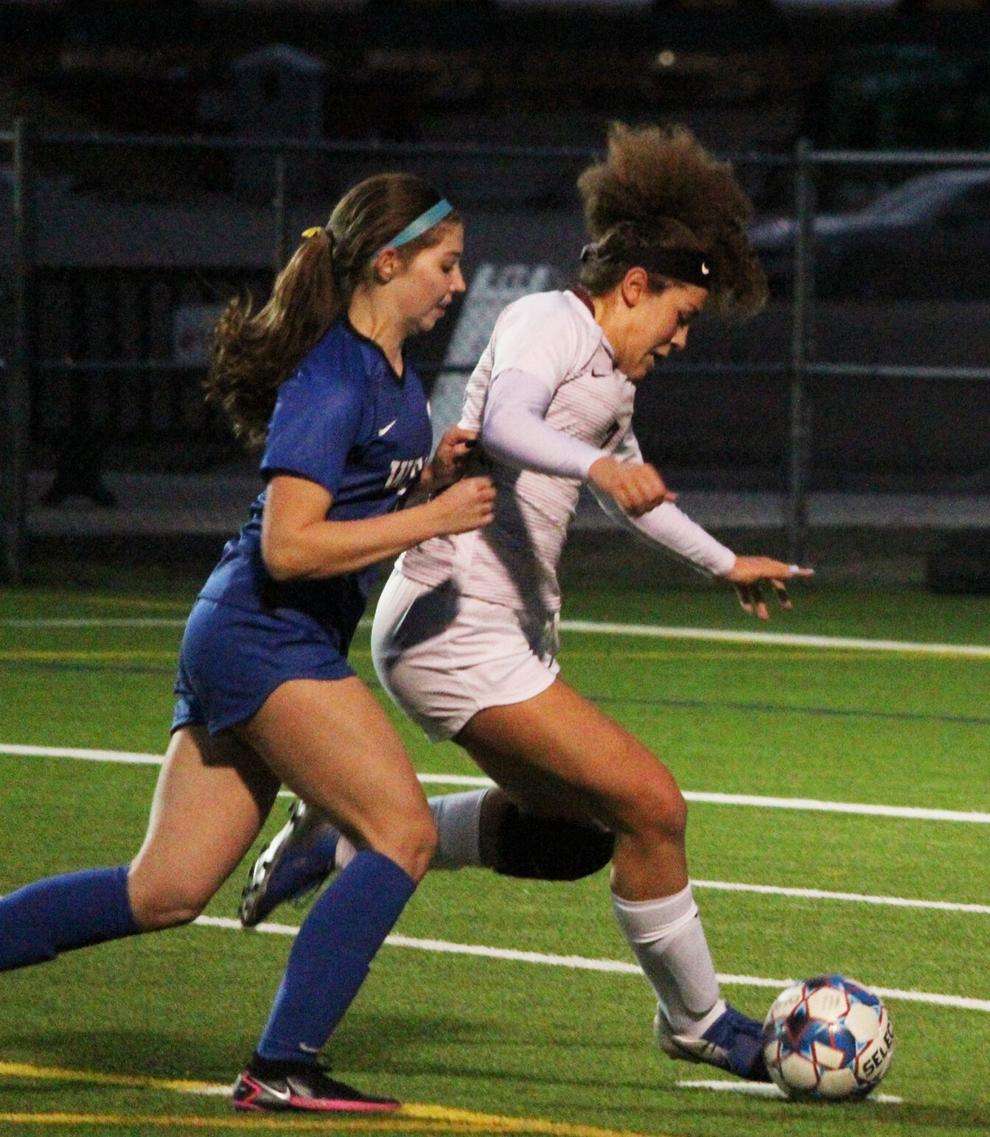 Sophomore Averi Culver had a hand in several stops on the back end for the Lady Farmers.
"[Culver] has some beautiful moments. Her playing the centre-back position has really helped out," Hernandez said. "She commands back there, steps up when she needs to and really relaxes us back there."
With Lewisville shutting down any activity in the box for the Lady Wolves, Hargrove's long ball proved to be a welcome change of pace as West kept Lewisville at arm's length the rest of the night. The Lady Wolves had several cracks at an insurance goal late, including aggressive runs by Roberts, Hargrove and senior Karsen Aguirre that narrowly missed the mark.
"They've set the precedent that we play for the full 80 minutes or nothing less than that," Kerestine said. "I think coming off last week there were a lot of open goals that they didn't score, and I think they're just hungry right now. I think it was more internal drive than anything."
Despite multiple shots on goal from Lewisville freshman Carson Glenn, junior goalkeeper Sydney Abouk and the Lady Wolves held an opponent scoreless for the second consecutive match.
The win improved the Lady Wolves to 3-4-1 in district play, racking up three points for the first time since a 1-0 victory over Plano East on Feb. 2. As West looks to make a late push into playoff contention, finishing shots like the ones that materialized late on Monday is top of mind for Kerestine.
"We're looking to hopefully be able to bury some more of our chances and to be able to hone in on those. We want to find ways to get more points," she said.
The Lady Farmers, meanwhile, dipped to 0-9-0 in conference play. Monday's match marked the team's fifth one-goal loss during that stretch — all five coming against the three Plano ISD schools.
"We're getting closer and closer. I feel like a lot of times it's been close to a 50-50 opportunity and there's just that 1% more," Hernandez said. "Looking around the entire district, it feels like there are a lot of 1-0's or 2-1's. There aren't many lopsided games in this district, and it's just been a matter of who shows up. I think overall we gave them a really good fight, but you just get unlucky on a play or two and it costs you."
The Lady Farmers look to bounce back at 7:30 p.m. Tuesday at home against Plano, while West attempts to build off Monday's win in a meeting that same time from Clark Stadium against Marcus.